Yesterday Twitter was in a fit of hysterics when a foreign blogger going by the name of Katherine George posted a picture of herself next to Pakistani workers on Twitter and the caption read: "Pakistan is a country that loves and respects women."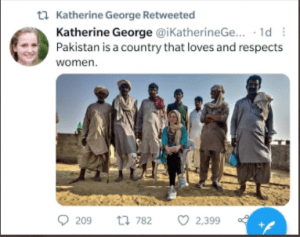 Twitter was quick to respond with hilarious comebacks and questioned how could a white woman make such a naïve statement, when even an event like Aurat March cannot take place here without any controversy?
This is getting exhausting. Really. pic.twitter.com/2euABw7jjX

— Nida Kirmani (@NidaKirmani) March 29, 2021
So true! 😍 You should try and organize a women's day march and see what happens! https://t.co/1WnSZ1HOyD

— Ammar Rashid (@AmmarRashidT) March 29, 2021
When Twitter users sought to find out who the mysterious Katherine George really was, they came upon a hilarious surprise. It turns out: Katherine George is in fact a fake account who was impersonating as a foreign blogger by stealing pictures from another Instagram blogger Aleks Mroz who runs the account @goldenbrownbaozi and had posted pictures of herself visiting Pakistan.
Katherine George is a fake account made by a PakistanI man who stole pics of another woman.
Real blogger's name is Aleks Mroz. pic.twitter.com/De4ICuqyQb

— Shamila Ghyas (@ShamilaGhyas) March 29, 2021
When Aleks Mroz was updated by her followers about this thievery, she also sought to clear this misunderstanding on her Instagram account by clarifiying that Katherine George was not a real person:
"Due to the FAKE TWEET (@ikatherinegeorg) using my photos without my consent, indirectly I met a lot of distress and frustration. Please REPORT this account."
She also provided her opinion on the controversial post by the fake account about Pakistan being a safe place for women, explaining that her privilege as a white woman allows her to remain safe in Pakistan, but will never undermine the voices of Pakistani women who are constantly struggling against the patriarchy:
"As a Polish woman spending short time in Pakistan I can personally talk about my own experience and the hospitality and kindness I received and it's true.
But I can never speak for the Pakistani women and I will never do. As any other foreigner here, I am the guest in Pakistan and and I can not speak out for local people."
Lastly, Aleks called for an end to negativity and for fans to ensure the remain safe against misinformation on the internet
"The amount of hate spread by one FAKE Twitter post influenced many people's opinions causing huge harm not only to me (as my face was used in the highly biased post), to other foreigners who are fully aware of the difference between the perception of a tourist and a local, but also to Pakistani people facing a FAKE white tourist who undermine their voice.
Spreading hatred, ignorance and colour-oriented posts is the LAST thing I would like to do.
Please stop the negativity, stop the blame and just SHARE THE REAL THING."
View this post on Instagram
Along with this the travelling agency Travel Studio 92 who had organized Aleks Mroz's  trip, took to Twitter to announce that they had not allowed Katherine George to use their pictures, and demanded the account to remove them immediately:
We demands from @iKatherineGeorg to remove our photos which she used without our permission. I'm Aleks, the member of @TravelStudio92 team and I didn't give any consent to post my photos, especially in such a biased way. we also request @Twitter to block this account. pic.twitter.com/9mkRVsd3Ub

— Travel Studio 92 (@TravelStudio92) March 29, 2021
What did you think of this entire scenario? Do let us know in the comments below!