Six Best Pakistani Movie Songs This Summer.
It's safe to say that Pakistani cinema is officially in revival mode. The past few years have been great in terms of content, whether it was Cake last year or Laal Kabootar this year, we've definitely pushed the envelope in terms of our movies. However something else that deserves mass appreciation are the variety of original soundtracks that we're coming up with for our films. Generally worldwide, Pakistan is known to be a country full of extremely talented musicians. Having said that something that people don't usually pay much attention to is the music we produce for our films. Thanks to Youtube now, Pakistani film music is being widely appreciated, especially this year. Whether it's a wedding, long drive or the treadmill, here's our list of the six best Pakistani movie songs this summer:
LETS HIT THE DANCE FLOOR:
1. Haye Dil Bechara
Image Credits: ARY Digital
Haye Dil Bechara is definitely a hot favorite this year. Crossing over 1 million views on Youtube, this song is not only making waves across Pakistan, but around the world as well. Haye Dil Bechara is the perfect fusion of Spanish and Pakistani music. Composed by Azaan Sami Khan and sung by the melodious Jimmy Khan who adds a distinct touch to Haye Dil Bechara with his powerful vocals, this song is nothing short of musical brilliance. The choreography is a class apart, choreographed by the legendary Nigah Jee, the steps of the song are catchy and the kind you expect to be replicated on weddings. Everyone ranging from Sheheryar Munawar to Zara Noor Abbas have brought their A game when it comes to grooving to the beats of Haye Dil Bechara! We at Niche Lifestyle love this song, what about you?
https://youtu.be/8g9ay6wuz34
Video credits:  ARY Digital/ Youtube
2. Ik Pal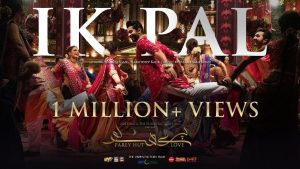 Image Credits: ARY Digital
Ik Pal is undoubtedly one of the best Mehndi songs of the year. This song is a visual treat. From Umar Sayeed's aesthetically pleasing clothes to the beautifully constructed sets, this song is nothing short of what Sanjay Leela Bhansali can produce across the border. Sung by the super talented duo of Hadiqa Kayani and Harshdeep Kaur, Ik pal marks the return of Meera Jee in a traditional dance number, and honestly we can't keep our eyes off of her. Choreographed by one of the best in Pakistan, Nigah Jee, Ik Pal has some pretty amazing dance moves as well. On of the best ensemble songs of the year!  Love it!
https://youtu.be/RccpEkRwXYo
Video Credits: ARY Digital/Youtube
ON THE ROAD:
3. Bekaraan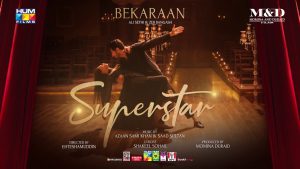 Image Credits: Hum Films/ Youtube
Bekaraan is a romantic melody for this history books! Lit by stunning chandeliers, beautiful clothes and perfectly crafted dance moves, Bekaraan is a complete package. Shakeel Sohail's lyrics and Azaan Sami Khan's composition are on point, lets not forget the beautiful voices of Ali Sethi and Zeb Bangash! Moreover Mahira Khan and Bilal Ashraf's chemistry in this song is by far the best we've seen in a Pakistani film song! A definite 10/10 !
Video Credits: Hum Films
4. Ghalat Fehmi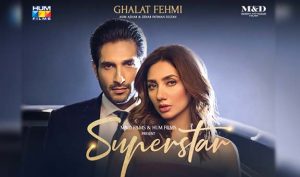 Image Credits: Hum Films/Youtube
Ghalat Fehmi is an emotional melody composed by the dynamic duo of Azaan Sami Khan and Saad Sultan. Sung by the versatile Asim Azhar and Zenab Fatimah Sultan, the song gives a modern twist to the widely loved 'qawwali' genre. Additionally the song is a hit amongst the public, stemming from the fact that it has crossed over 1 million views on Youtube in a span of a week. A top favourite on our playlist nowadays.
Video Credits: Hum Films
GYM JAM:
5.  Chhalawa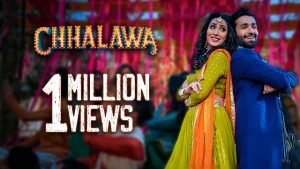 Image Credits: Hum Films
The Chhalawa title song is colorful, vibrant and full of energy. Mehwish Hayat and Azfar Rehman are great but the standout performer of the song for me is Zara Noor Abbas. Zara brings a perfect combination of expressions and attractively unique dance moves to the silver screen. Composed by Shiraz Uppal and written by Shakeel Sohail the song is the kind that stays on your mind for at least a couple of days.Oh and this is the type of song that you can listen to on the treadmill as well!
Video Credits: ARY Digital
6.  Addi Maar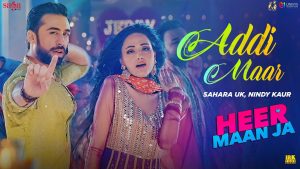 Video Credits: IRK Films
Upbeat, rhythmic and super cool dance moves round off the song Addi Maar from Heer Maan Ja.  Composed by the super talented Manj Musik and sung by Sahara UK and Nindy Kaur, Addi Maar is the perfect example of great modern Punjabi music. Moreover Ali Rehman Khan and Zara Sheikh light the dance stage on fire with their applaud worthy dance moves. Bored while doing cardio on a treadmill? We feel like Addi Maar is the perfect upbeat solution to your boredom.
Video Credits: Unisys Music
As a Pakistani what makes us really proud is that we have so many talented people in our country. Who needs Bollywood music if we have great artists within our country? Whether it's in the acting department, song composition, direction, choreography and singing everyone in our country has massive potential. Therefore it'll be wrong on our side to not acknowledge what they've done with the film songs this year. Whether it was the catchy party song Haye Dil Bechara or the modern qawwali Ghalat Fehmi we loved them all.
Which one is your favorite? And if we missed out on a song that you think should've been a part of this list, feel free to let us know.