Shoaib Mansoor starts shooting for his film ABG with Maya Ali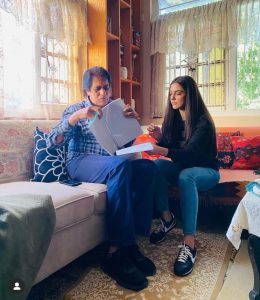 Shoaib Mansoor is among the most influential and famous figures in the Pakistani entertainment sector. He is well-recognised for directing and producing super hit dramas such as Ankahi, Fifty Fifty, Alpha Bravo Charlie , Sunehray Din and Gulls and Guys and all these aired on PTV and we must say that these among many other dramas have made that era a classic time!
He is also known as a successful songwriter and music composer. He introduced the band Vital Signs into the mainstream media  and he was not only Junaid Jamshed's mentor, he also composed and produced most of the Vital Signs' albums.
Shoaib is a versatile artist and became internationally known after the success of his critically acclaimed films Khuda kay Liye (2007) and Bol (2011). Unfortunately his film Verna starring Mahira Khan in 2017 did not do well on the box office and now the director is back with his another film "ABG" with Maya Ali and Emmad Irfani in main leads.
Maya Ali took on her instagram and shared this big news with her fans that she is happy and feels blessed to work with the great and amazingly talented director Shoaib Mansoor. Maya was last seen in movie Parey Hut Love and is now paired with Emmad Irfani for this movie "ABG" by Shoaib Mansoor.
Emmad who is in the spot light these days for his on going drama serial Jalan. He also shared this news with his fans as he posted a picture on his instagram with Shoaib Mansoor at the Pakistan Air Force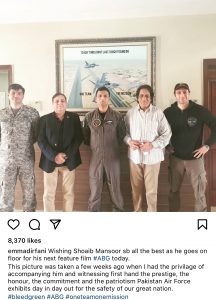 Though the full name of the movie  and release dates have not been disclosed by the team, there are a few pictures from which fans are speculating that maybe the theme of the movie might revolve around PAF and patriotism.
Maya has shared a picture informing that the they have started shooting for the movie from today and we wish the cast and the director all the very best!