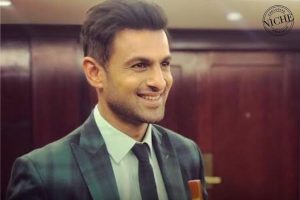 Shoaib Malik shares details about his acting debut leaving fans surprised. He recently made an appearance on Ahsan Khan's show, 'Time out with Ahsan khan' where he was asked about his interest in acting as Shoaib is being seen often on the tv screen nowadays. Shoaib replied by saying that he has a great amount of  interest in acting and revealed that he has already made his acting debut.
We have seen this trend in our entertainment industry where singers turn into actors and vice versa. Cricketers across the border have been making trying their luck in the entertainment industry but in Pakistan after Fawad Alam, Shoaib Malik is the second cricketer who has made his acting debut.
Shoaib further said that his drama stint is a surprise for all his fans. He said that he has shot scenes of his upcoming drama at multiple places and more details will be shared soon. His wife Sania Mirza has also made her debut with a web series aimed at spreading awareness about tuberculosis.
We wish them both all the very best for all their future endeavours!
Here is the official link of the interview with Shoaib Malik and Sonya Hussyn as guests: 
Let us know on our Instagram page, if you are as excited as we are for Shoaib Malik's upcoming drama.