Shoaib Akhtar receives flak for criticising PSL anthem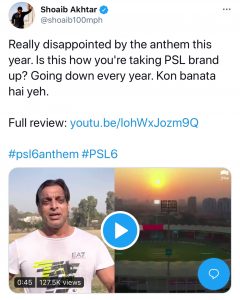 Shoaib Akhatar has been very honest and straight forward about his reviews related to cricket and his YouTube channel has been going very well with millions of followers who look forward to his videos.
PSL's anthem is much awaited every year by fans and it brings a very energetic vibe with it. Ali Zafar has always been the first choice of fans and many wish that he sings it for the nation every time.
As fans were very much disappointed last year also with the anthem, this time 'Groove Mera' had mixed reviews. The anthem is sung by Naseebo Laal, Aima Baig and Young Stunners.
Shoaib Akhtar yesterday made a video on his YouTube channel and and said that this anthem 'Groove Mera' for PSL 6 has been the worst anthem ever and his children are so scared of this song that he is using it to make them sleep.
He further added that our industry has many amazing singers and by coming up with this song he feel ashamed and disappointed. He also mocked the clothes of Young stunners and said that he has failed to understand what actually the lyrics actually mean. He concluded by saying, " Make a better song next time and if you can't, let me know I will sing it for you."
As soon as this video came it went viral on social media and many celebrities and fans felt really bad the way Shoaib addressed it. Many celebrities said that he was just expressing his opinion while a huge amount of people said that the song is not that bad and Shoaib shouldnt have said such harsh things about it.