Share this
Shehla Chatoor presented her Bridal Couture collection last night, at the Old Custom House in Karachi. Curated thoughtfully within the walls of the Custom house, which itself is a paradigm of great architectural artisanship, the collection "Aks" was a celebration of the forgotten old world glamour, translated beautifully through intricate hand embroidered artisanal pieces.
The Crystal Chandelier adorned hallways of the Custom house were lit spectacularly with hues of Vincent Blue, almost reminiscent of the Starry Night. This well-organized and lit show was brought to life by Rakka Events at a venue which was both exclusive and historical, seized in all its glory through the lens of Faisal Farouqi and marketed digitally by the brilliant minds at Mindmap.  Transcending time,the collection and the ambiance ornamented in all it's opulence aligned in perfect harmony to create something exceptionally brilliant.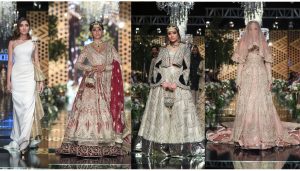 The collection consisted of semi-couture, couture and embroidered women/men's wear pieces. Silhouettes indigenous to the region were ornamented heavily with gems, crystals and mirror embroideries while the color palette shifted between white, pink , black and red.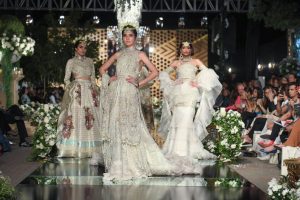 Body-hugging Cholis, embroidered tunics and kimonos, Voluminous gharraras, over sized-button down coats in voluptuous crimson red,  anarkalis and super slinky gowns paired with subtle embroidered men's wear presented Shehla's Vision of the summer bride.
Shehla's attention to detail was clearly evident from the assiduously constructed necklines.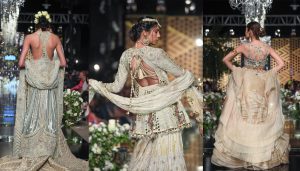 A bridal-fanny pack hybrid made its appearance on the runway followed by some traditionally ornamented pair of bags and clutches.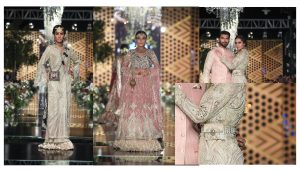 While for the men'swear Shehla opted for button down jackets, cut asymmetrically with subtle details of embroideries.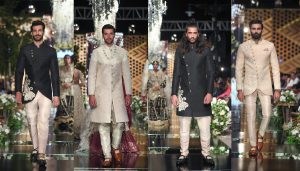 This Story of the future past was presented in the reflection of an ostentatious mirror, Shahla Chatoor's "Aks" is the depiction of the contemporary celebratory women who is rooted in her cultural essence yet armed with a choice.
Share this