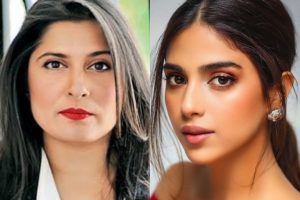 Sharmeen Obaid-Chinoy, a two-time Oscar-winning filmmaker, responds to Sonya Hussyn's comments on Mahira Khan's 2017 Bollywood movie Raees by leaving a comment under Grazia magazine's post. 
A three year old video clip of Sonya Hussyn was circulating on all social media platforms, when she made an appearance at 'After The Moon Show'  in 2018 along with Asim Azhar and the show was hosted by Yasir Hussain. Yasir Hussain asked Sonya to pick one movie she would have not done if she was Mahira Khan to which she replied by saying that she would have never done 'Raees' as according to her your character should be such that you stand out, not just a side character to the hero.
She further added that she is not even a fan of Shahrukh Khan so she would have never done this particular project if she was Mahira Khan. 
Sharmeen Obaid Chinoy who is one of the leading Pakistani-Canadian journalist, filmmaker and activist left a comment under Grazia magazine's post saying, "Don't think you'll ever be Mahira Khan so you won't ever get to say no. Don't diss other women in the industry; it reflects poorly on you and your upbringing."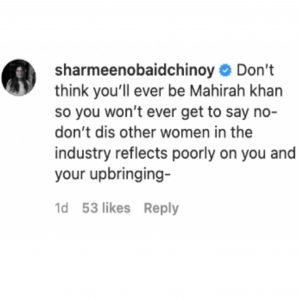 Sonya gave a quick answer as this question was asked in a rapid fire round. Fans are divided with their opinion on this with many supporting Sharmeen and some said that Sonya has just expressed her own opinion and should be not be judged like this. Let us know in the comments section on our Instagram page about your opinion on this whole situation.