Do you feel like Pakistanis judge people a lot on how much weight they have lost or gained on their body? Shaniera Akram is frustrated about the same thing and voiced her concerns on social media today when she criticized people for never letting go of their judgements over other women's bodies.
On her Instagram stories, Shaniera pointed out how people need to stop making unnecessary comments about other people's bodies because it is dehumanizing
"How do you know you have put on weight? Don't worry, someone will tell you! #Pakistan
And when you lose weight, you will also get told followed by a comment about how big you were before and a dramatic version of how much weight you have actually lost! Kind of making the initial compliment not so flattering."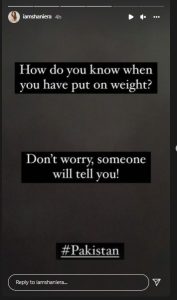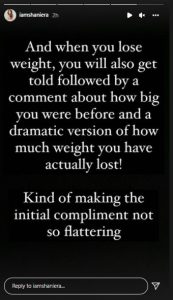 We're on your side with this point Shaniera! We have no idea what other people are going through in their lives so it is completely wrong to make judgmental comments about whether they have lost or gained weight. Let's learn to mind our own business and treat other people with kindness.