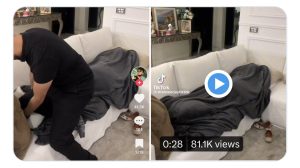 Shahveer Jafry has gained fame through his relateable content on Youtube, Instagram and Tiktok. However, in the rat race for views and likes, influencers often overlook the misogyny underlying some viral videos and this seems to be the case for Shahveer Jafry as well.
He uploaded a video with his wife where he tries to suffocate his wife with a cushion only to realize that he's mistakenly pressed on the feet instead of the face. The intention must have been to post a funny reel but there are underlying themes that disturbed various viewers.
This video has been viral on various socials for a while but as many people have pointed out, influencers need to be mindful of the content they create. In Pakistan where we're fighting endlessly to let women march peacefully on 'Aurat March', where celebrity wives need 'evidence' to prove domestic violence, where harrassment news is rampant; as influencers we need to be cautious of the content we post and the message it delivers.
Kanwal Ahmed, founder 'Soul Sisters' tweeted 'In a country where thousands of women are killed every year from domestic violence – famous YouTubers find it "funny" to make a reel around choking your wife.
Another person on Twitter highlighted  '41.3k likes on a video where tiktoker, Shahveer Jafry, chokes his wife as a joke in a country where domestic violence is rampant, where women ACTUALLY get killed by their husbands! My blood is boiling.'