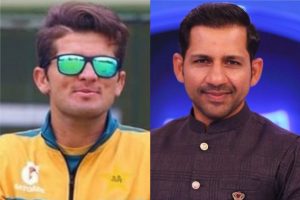 Shaheen Afridi and Sarfaraz Ahmed's spat leaves fans disappointed and divided with their views on the quarrel that took place between Lahore Qalandars bowler Shaheen Afridi and Quetta Gladiators captain Sarfaraz Ahmed. While some defended Shaheen's actions, others suggested that the left-arm bowler apologise to the former Pakistan captain.
It all started when Afridi smacked the Quetta Gladiators captain in the head with a fierce delivery. Sarfaraz still managed to score a run despite being shaken by the 147kmphsmash.  Sarfaraz then tried to speak to the left-arm pacer, but he turned away from the former Pakistan captain and initiated to bowl the next delivery.
https://twitter.com/Cricket_Posting/status/1404855703018348547?s=20
Afridi stepped around and began heading back towards the former skipper, clearly angered by what Sarfaraz said.  By this time, a few Lahore Qalandars fielders, as well as the on-field umpires, had intervened. Mohammad Hafeez, a veteran all-rounder, tried to calm Sarfaraz down.
"Sarfaraz probably asking him to take it easy, I mean," said commentator Ramiz Raja.
Shahid Hashmi weighed in on Afridi's performance, offering his two cents.
https://twitter.com/hashmi_shahid/status/1404812075327762435?s=20
Sports journalist Roha Nadeem, on the other hand, believes that Afridi did not break any regulations and so did not need to apologise to Sarfaraz.
https://twitter.com/RohaNadym/status/1404813513525239817?s=20
Hashim Siddiqui said cynically, questioning if players were now bound to bowl full tosses to Sarfaraz because he was formerly their captain.
https://twitter.com/SiddqueHashim/status/1404814311080538126?s=20
Quetta Gladiators defeated Lahore Qalandars by 18 runs in match 23 of the Pakistan Super League 6 on Tuesday at Sheikh Zayed Cricket Stadium, keeping both clubs in the points standings.
Despite defeating the Qalandars, the Gladiators are ranked last in the league. So far, Sarfaraz's team has only collected four points from eight games.