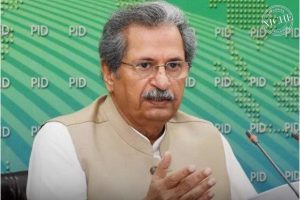 Federal Minister for Education Shafqat Mehmood on Wednesday said the Inter-Provincial Education Ministers Conference (IPEMC) has decided to open all educational institutes gradually except in Sindh. He further added that Minister for Education Sindh, Saeed Ghani has informed the IPEMC that the province's schools will remain closed till the 8th of August and will observe the covid-19 situation meanwhile and then decide the next action for reopening of schools and conducting examinations.
In his press conference he said, "The overall vaccination rate in the education [sector] has reached 83%, but inoculations are lagging in higher education institutions which should be ramped up. For this, the education ministers have been urged to make special efforts to get university students, as they are above 18-years of age and teachers vaccinated. The exams of classes 9, 10, 11, and 12 will take place in accordance with their date sheet."
Shafqat Mehmood further added, "The IPEMC has decided the students would be given an additional 5% marks in exams as according to research, students get better marks in compulsory subjects. The next education-related meeting will take place on August 25, along with the National Command and Operations Centre. Till then, these decisions will remain in place."
After this press conference students shared their opinion on Twitter and majority of the students are concerned about the covid situation which is getting worse day by day.
Here is how the students are reacting to the news on Twitter:
Me in exam#Shafqatmehmood pic.twitter.com/9kvANWz3Rp

— AsiM Rafiq (@im_AsiM_RafiQ) August 5, 2021
#Shafqatmehmood to Students : pic.twitter.com/UWcWRtySTU

— Mian Omer🇵🇰 (@Iam_Mian1) August 4, 2021
Harsh Reality of our Education System 😐#Shafqatmehmood pic.twitter.com/uYynygsTyk

— Laiba Khan (@laibakhan54) August 4, 2021
Students praying fpr cancelation of exams🙏🙏🙏#Promote9th_and11th_class#NCOCmeeting#Shafqatmehmood pic.twitter.com/rx4xdBI0pB

— Samia usman (@Samiaus41666495) August 3, 2021
#Promote9th_and11th_class#Shafqatmehmood
Insha Allah, the reaction of students on August 4.. pic.twitter.com/4RCxDjSFKR

— Shahrukh (@IamShahrukhB) August 3, 2021
11th class be like:😩😭 #Shafqatmehmood #NCOC pic.twitter.com/4S1KT6f9kX

— Hira Khan (@DrHira_khan) August 4, 2021
Books khol lay 9 & 11🙂#NCOC #Shafqatmehmood pic.twitter.com/jfv91GlP0u

— Namal🌼 (@Moody_hun_yar) August 4, 2021
#Promote9th_and11th_class#Shafqatmehmood#CancelExamsSaveStudents#exams2021
Exams cancel kar do yawrrrrrrr……
Scenes from future inshallah♥️ pic.twitter.com/o0j9vO2Pif

— Abdul Basit (@BasitBinsaleem) August 4, 2021