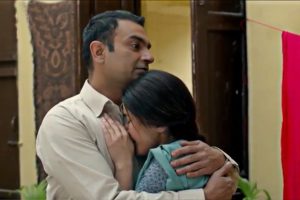 Sarmad Khoosat and Shaista Lodhi's on-screen chemistry is keeping fans hooked to drama serial 'Pardes'. Both Sarmad and Shaista made a comeback to the tv screen with drama serial "Pardes" after a long period of time. The drama is directed by Marina Khan and produced by Humayun Saeed and Nadeem Baig under Six Sigma Plus production and is currently being aired on Ary Digital.
The drama revolves around a married couple (Shaista and Sarmad) who are separated from each other by distance. The  drama has hit the masses as many have been able to relate to  both Sarmad and Shaista's situation. Sarmad is playing the role of a very kind person who is very loving towards his family and goes to work abroad for the well-being of his family as they belong to a lower-middle class and are struggling with Sarmad being the only bread-earner of the family.
Pardes has gained a lot of attention with each and every character's brilliant performance and strong story-line. Shaista is playing the character of Sarmad's wife who is very much in love with her husband and does not need a good financial status as all she wants is to stay with her husband. Her character always leaves fans feeling very emotional and we are sure that every expat family can relate to her.
Fans are hooked to Pardes with Sarmad and Shaista's amazing on-screen chemistry. They both are playing their characters in such a brilliant way that the drama almost feels very real to the audience and close to the hearts of every family who has their loved ones working abroad to support their families. The drama also highlights the struggles of husbands/fathers who live alone abroad and work tirelessly and those who do not have a family to return to at the end of the day.
Let us know in the comments section on our Instagram  page about your views on drama serial Pardes.