Sajal Ali And Ahad Raza Mir Not So Single Anymore?
There is no doubt about the fact that Sajal Ali and Ahad Raza Mir are extremely talented when it comes to performing on screen. Whether it was Mom, 'Yakeen ka Safar,' or even Parwaaz Hai Junoon, the actors lit up the screen with power-packed performances the moment they showed up.  Now lets shift gears a little bit, Yes, we've all reached the conclusion that both the actors are amazing, but what's more relevant nowadays is that they recently just announced their engagement on Instagram. The actors met each other on the famous soap opera 'Yaqeen Ka Safar' in 2017 and ever since, #Sahad has been trending online. There'd been rumours floating around that Sajal and Ahad are apparently dating. Now that the actors have opened up on Instagram about their engagement, can we safely say that most of the times such rumours are to be believed and are therefore true?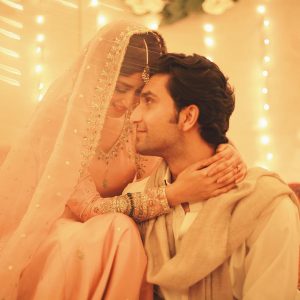 Image credits: Sajal Ali Instagram
Ever since they acted in their first serial together, the actors have been all praises for each other. Whether it was Ahad's mom praising and congratulating Sajal on award wins or when Ahad himself went on to praise Sajal's abilities as an actor in one of his interviews, all we've seen in this dynamic is positivity.
Putting everything to rest, both Sajal and Ahad took to Instagram yesterday and announced their engagement. A huge congratulations to the couple and all I can say is that I'm super excited for the wedding. Can't wait to see the dance videos from their Mehndi on Instagram soon.