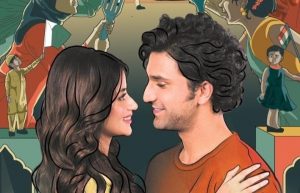 Sajal and Ahad's web series, 'Dhoop ki Deewar' is all set to release on the 25th of June. The most anticipated web series, Dhoop Ki Deewar is written by the most celebrated writer of Pakistan, Umera Ahmed and is directed by one of the leading directors, Haseeb Hassan who has many block buster dramas like Alif, Mann Mayal, Nanhi and a feature film Parwaaz Hai Junoon on his credit.
The web series will be airing on Zee5 with Sajal and Ahad in lead roles and Manzar Sehbai, Sameena Ahmed, Samiya Mumtaz, Sawera Nadeem and many more brilliant actors will also be seen in prominent roles. Set in the backdrop of Indo-Pak conflict the web series depicts that how peace is better than war. The script  is inspired by true events and heart-wrenching stories of everything families and kids of martyred army officers go through on both sides of the border.
Talking about the web series, Haseeb said, "Dhoop Ki Deewar is not a love story: it is a love-hate story based on the love-hate relationship between people of India and Pakistan. That's the only way WE can write and read a love story between these two people," the playwright shared with Instep, adding, "That's what almost 70 years of unending hatred does to people and their sensibilities. And the most difficult thing for a writer in the subcontinent is to write an Indo-Pak love story."
Zee5 shared a small clip from the series in which Ahad is seen playing a tune on the guitar for Sajal to cheer her up. Two official trailers have been released featuring both Sajal and Ahad where they express their grief of losing their fathers in war and ask whether they are Pakistani or Hindustani.
https://www.zee5.com/global/zee5originals/details/dhoop-ki-deewar/0-6-3347/dhoop-ki-deewar-sara-teaser/0-1-520013
https://www.zee5.com/global/zee5originals/details/dhoop-ki-deewar/0-6-3347/dhoop-ki-deewar-vishal-teaser/0-1-521050
As the date of the series has been released we just cant wait to watch Sajal and Ahad again as we know that they both create magic on the screen with their chemistry!