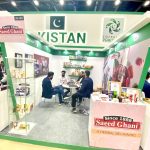 The Gulfood Exhibition is a major food and beverage trade show that takes place annually in Dubai, United Arab Emirates. It is considered the world's largest annual food and hospitality trade event, featuring exhibitors from over 198 countries showcasing their products and services to international buyers and visitors.
The exhibition features a wide range of food and beverage categories as well as "Beauty & Wellbeing" which features various beauty and personal care products. The event includes seminars and conferences covering various topics related to the industry along with live demonstrations and competitions. The Gulfood exhibition is a key platform for various industry professionals to network, explore new products and trends, and do business with leading industry players.
This year, Saeed Ghani 1888 had the opportunity to showcase the latest products at the Gulfood exhibition in Dubai. The Beauty & Wellbeing section of the exhibition provided an amazing platform for us to explore and connect with other brands globally. Our herbal products at display included a range of skincare, and hair care products, all of which makes our brand stand at the top in natural beauty care in Pakistan. We offered product demonstrations, samples, and engaged in conversations with visitors to showcase the benefits of Saeed Ghani's products and explained how they could help them achieve their beauty goals.
Our brand has been providing high-quality skincare and haircare products to its customers for over a century. Established in 1888, the company has a rich legacy and a deep understanding of the needs of its customers. We do our best to use natural and organic ingredients in products to ensure that our customers receive safe and effective solutions to their beauty concerns. With a wide range of skin and hair care products along with fragrances, Saeed Ghani 1888 has earned a reputation for being one of the most trusted brands in Pakistan's beauty industry.
Participating in the Gulfood exhibition was a significant milestone for Saeed Ghani, as it allowed the brand to expand its reach beyond Pakistan and into the global beauty industry. The exhibition attracted a diverse range of industry professionals, including buyers, retailers, and distributors, and provided a valuable opportunity for the brand to network and build relationships with potential partners.
Saeed Ghani's presence in the Gulfood exhibition was a testament to our commitment to sustainability and ethical business practices. We are well-known for our focus on using natural ingredients and traditional herbal formulations, and our participation in the exhibition allowed us to share this message with a global audience. It was an overall huge success as the visitors to the booth were able to learn about the benefits of using natural and organic products and experience the quality of the products firsthand.