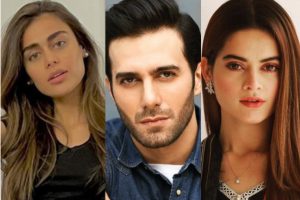 Sadaf Kanwal, Emmad Irfani and Minal Khan have paired up for a new project. The upcoming project of Express Tv, Aik aur story will be featuring different telefilms and short stories and the first one will have Sadaf, Emmad, Minal, Imran Ashraf and Ushna in lead roles. These short dramas will be airing on Express Tv every Thursday for two hours and are written by Muhammad Ahmed. It is directed by Abbis Raza and produced by Fahad Mustafa and Dr. Ali Kazmi.
The trailer has gained a lot of attention as the duo, Emmad and Minal were in the spot-light a few months back with their drama serial, 'Jalan' (which aired on Ary Digital). Drama serial, Jalan received a lot of criticism and even got banned for sometime. It was one of the hit dramas of both Minal and Emmad and kept trending on all social media platforms.
Sadaf will be making her acting debut with this drama and we can assume from the trailers that it will not be a typical love triangle. The trailer shows how Emmad is attracted towards Minal and how they eventually fall in love with each other.
The cast also has some big and brilliant actors like Imran Ashraf and Ushna Shah and from the trailers we can assume that it is a blend of both comedy and romance.
View this post on Instagram
As much is not revealed about the project, we would like to wish the whole team of the upcoming project Aik Aur Story all the very best!!