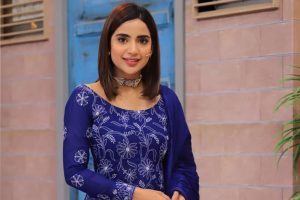 Saboor Aly asks Aamir Liaquat to lower his gaze while talking to her in a live show. She and Ali Ansari were invited to Ramadan special show "Jeeway Pakistan" which is hosted by Dr. Aamir Liaquat and is being aired on Express Entertainment.
Aamir Liaquat started staring at her and made some unnecessary comments that made Saboor very  uncomfortable  and is was clearly seen that the actress was trying hard to not to lose her patience.
Aamir Liaquat started giving extraordinary attention to Saboor and was continuously being extra flattering to her which made her very uncomfortable and finally she asked Aamir to lower his gaze while talking to her. She further said, "There should be shame and modesty in your eyes when you look at me. I know it is difficult for you but you should atleast try."
Dr. kept on irritating her throughout the show but did not even try to look at her again or make any flattering comments whereas Saboor clearly showed that she is not enjoying the show and is very uncomfortable.
Aamir Liaquat has been already in the spot-light for his 'nagin dance' to tripping on the floor while racing at his show with an athlete. He has been trolled on the internet with hilarious memes after that. Currently he is again making headlines after a young woman claimed to be his third wife. However he completely denied the claims saying he has only one wife and that is Tooba.
Here is a link of the Ramadan show: