The 'me too' movement was founded in 2006 to help survivors of sexual violence particularly in the west. With the passage of time the society evolved in the east as well and women first from the film and fashion industry started speaking up against sexual harassment. Soon after as social media became a powerful platform to raise voice against such issues and helped people to create hype on the internet and get noticed. Now the 'me too' movement is recognized worldwide and is helping many women to come up with their harassment experiences.
It is not the first time that in Pakistan a harassment case came up; we have been seeing a lot of such cases and controversies going on recently. Earlier today a tweet took the internet by storm in which a Pakistani girl, Rabia Mustafa Khan allegedly accused two men of rape, who are known as the owners of a famous company, Sabroso. Rabia stated that she was gang raped by her boss and his brother while she was working as a receptionist at their company. She further added that she was promised for a marriage proposal from one of them but instead they raped her and was held hostage for two months and her mother was told that she had stolen the money from the firm.
I regret being silent for so long, I had no plans to come forward after two years but after reading everyone's messages I have decided to name my rapist. Zeeshan Sabir and Imran Sabir from Lahore. I pray to Allah that no girl has to face what I did. Please pray for my mother. pic.twitter.com/wJS8f4LhpV

— Rabia Mustafa Khan (@rabiamustafakh) August 8, 2019
I was a fool to think my Rapist will leave his wife and marry me, I was naive, I had dreams, I was poor, But those who said afterwards that I deserved it, Rot in hell #MeToo

— Rabia Mustafa Khan (@rabiamustafakh) August 7, 2019
I was left at the mercy of police surgeon and after a shameful medical, I was told I am not Raped, no one helped me, no one believed me, my brother was locked up, my mother had given her all savings to police as bribe

— Rabia Mustafa Khan (@rabiamustafakh) August 7, 2019
My mother was continuously harassed by the police, my rapist were rich, powerful and politically connected. When I finally escaped from my prison and reached the police station, I was told to get a medical for Rape

— Rabia Mustafa Khan (@rabiamustafakh) August 7, 2019
Reportedly, when Lahore Police got involved in the case  and tried to reach out to her, Rabia has not given any statement to them yet. The tweets from Rabia on the other side tell a different story. She stated that after a shameful medical she was told by the Police that she was not raped and instead was locked up and said that it is all because her rapsists are rich, powerful and politically strong.
We from Niche Lifestyle personally reached out to Zesshan and Imran executive Directors of the Sabirs' Group. They gave us exclusive statements in which they have denied the rape allegations against them and said that is all a hostile propaganda against them through a fake profile. They further added that there is no record of Rabia Mustafa ever working for Sabroso and the only receptionist they have is still working for them and Rabia has not submitted any medical report nor has filed any FIR agaisnt them.
We deny any and all rape allegations lodged by a fake twitter account under the name of Rabia mustafa khan.
We strongly support #MeToo, however misuse of the movement for personal grudges should not be tolerated.#Sabroso pic.twitter.com/lSABe7XW4D

— Sabroso Pakistan (@SabrosoPakistan) August 9, 2019
Sabir brothers said, Salman Cheema was a stakeholder of their company who owned them Rs.58.6 million on which he defaulted and when they filed an FIR against him he started blackmailing them. He made an account to tweet about their company saying that they mix pork in their chicken and when they filed a case of cyber crime against him all those accounts were deleted.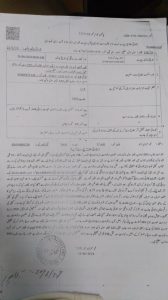 Soon after they claim that on Selman's behalf someone has come up with another fake profile with rape allegation without any FIR or medical report against them. They further added that they have filed a case against, Salman and he is in police custody at the moment.
Sabir brothers say that they completely respect and support the 'me too' movement but it should not be used to defame anyone's business or reputation and  have requested everyone to not to spread any fake news till it is from a verified or from a proper official account as they and their families are already facing a lot of issues regarding this rape allegation.
Here is an exclusive insight to the matter and it is too early to decide and comment on the situation. We think it is better to wait for the police to investigate the matter and we hope that justice prevails.