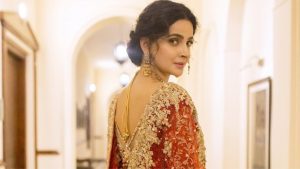 Saba Qamar has reemerged as the talk of the town after a short hiatus. Recently she has been the hot potato for two reasons. The first was her bold photo shoot that invited massive negativity and now it's a spontaneous marriage proposal to which she surprisingly said yes.  
Saba Qamar updated an Instagram post, wearing a beautiful pastel gown and captioned it by saying 'If it's meant to be, it will be.' To which Azeem commented underneath those images, "Let's get married, shall we? This year."
To which Saba replied, much to the delight of the audience, "Qubool hai."
Her response sparked outrage on social media, with many believing she didn't mean what she said, especially since she also co-wrote a song with Bilal Saeed called "Qubool."
Though many were certain that this statement might not be intended by her, she later confirmed to Express Tribune that she was undeniably ready to get married.
"Yes, I have found the person I'd like to settle down with," Saba told The Express Tribune. "If everything goes well, I will be tying the knot very soon."
The actor, who has been candid about her split, revealed that a man influenced her decision.
"Obviously, it is strange for someone like me – who has always discouraged relationships and has been vocal against the institution of marriage but here was someone who I got along with and was able to convince me otherwise," she shared.
She is already in love and ecstatic about it. Saba also exclaimed with delight that the gentleman in question is Azeem, who had left a comment beneath her picture. He is a successful Australian-Pakistani businessman who was born in Karachi but now lives in Sydney. Saba chose to remain silent about the wedding dates and any other information without drilling down further into her person of interest and their nuptial plans.