Rumour has it that Farhan Saeed and Iqra Aziz are reuniting for another Ramzan show. Iqra Aziz was previously seen in 'Khudda aur Muhabbat' opposite Feroze Khan. Farhan was previously seen opposite Hania Amir in 'Mere Hamsafar'.
#EXCLUSIVE to all the #SunoChanda fans, get excited… #FarhanSaeed & #IqraAziz to star in upcoming Ramadan Comedy-play #MannatMurad…

Directed by = Wajahat Hussain

Produced by = 7th Sky Entertainment (Abdullah Kadwani & Asad Qureshi)

Ramadan 2023 release…. pic.twitter.com/1iaCi0FDkO

— Hamzah Bhuta (@Hamzah_Bhuta) November 12, 2022

Syed Wajahat Hussain, the director of Khuda Aur Mohabbat 3 will also be a part of this project. The drama is titled 'Manat Muraad' and is written by Nadia Akhtar.
The Ramzan play will be produced under the banner of 7th Sky entertainment.
Keeping in mind that most Ramzan plays follow the rom-com genre, we can't wait to see the 'Suno Chanda' couple share the screen again soon.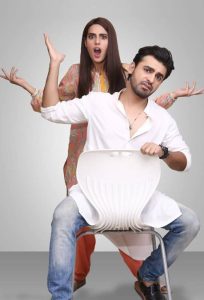 #Arjiya, the fandom for Arsal and Jiya, the characters of Farhan and Iqra in Suno Chanda, are already celebrating and are waiting for a confirmation from the actors.
SCREAMING CRYING THROWING UP. MY ARJIYA IS COMING BACK YALL . ARE YOU LISTENING EVERYONE ??? IM SO HAPPYYYYYY….!!!!!!! #FarhanSaeed #IqraAziz #Arjiya https://t.co/WwG8p4du2S

— ☾︎ (@ZippyBetchh) November 12, 2022
Please Farhan and Iqra together for new serial 😩😩😭😭 #FarhanSaeed #IqraAziz

— Reemz Jatt (@SyapaaGirl) November 14, 2022
Exclusive:#IqraAziz signs #Wajhathussain's upcoming new project #MannatMuraad ❤️⭐@iiqraaziz @wajahathussain.syed #irfanistanupdates https://t.co/5ZBX4Ob9PZ

— irfanistan (@Irfanistanian) November 12, 2022
It's no secret that both Iqra Aziz and Farhan Saeed have proven their mettle in the acting department and continue to impress us with their convincing performances . Their Chemistry in 'Suno Chanda' won the nation over which lead to another season for the blockbuster show, with both seasons engaging a big number of audience.
If this news comes out to be true, we know what we'll be binge watching coming Ramzan. Can't wait!