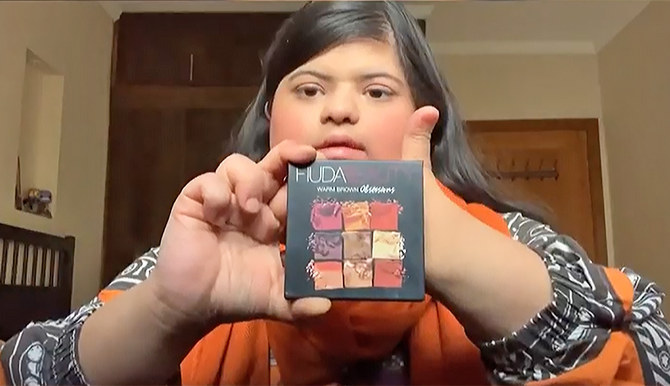 Rida Zahra Naqvi has just recently joined social media as a beauty influencer and she is already winning the hearts of Pakistani's with her adorable personality and makeup skills. She is also the first Pakistani make-up artist to have Down's Syndrome, but has never let this become a barrier between herself and her dreams because beauty does not have a set definition!
View this post on Instagram
Rida uploads her make-up tutorials on her YouTube channel and her Instagram page @ridda_zahraa where she has amassed more than 48K followers. Her first makeup-tutorial was uploaded in February and it received 800,000 views in a few hours.  Plenty of A-list celebrities like Sadaf Kanwal, Ayesha Omar and Xarnish Khan flooded her comments with praises for her makeup skills and her bubbly demeanor
View this post on Instagram
After her first few posts, Rida Zahra Naqvi immediately began receiving public attention as news channels like ARY news, HUM news and Today Pakistan came to do her interview, which she has posted on her channel.
View this post on Instagram
Rida Zahra Naqvi's blogging is a wonderful reminder to all Pakistan's that beauty standards need to be shattered and there is room for everyone in this field. After all we do love Maroosha Akif and her beauty tutorials and for her gorgeous looks
View this post on Instagram
So then we can also celebrate women like Rida Zahra for encouraging others with Down's Syndrome like her to embrace their imperfections and pursue their dreams regardless of what any one else has to say. It's 2021 guys!
View this post on Instagram
by Mahnoor Jalal