Restaurant in Dubai launches 23-karat gold biryani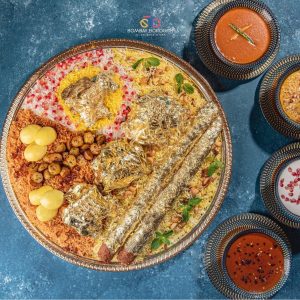 Restaurant in Dubai launches the world's most expensive biryani with 23-Karat gold worth Rs 43,300. It is an Indian restaurant based in Dubai by the name of Bombay Borough and is serving this expensive biryani for AED1,000.
According to Bombay Borough, " The dish of the season has arrived! Introducing the Royal Gold Biryani, Dubai's most expensive biryani. This heavenly plate consists of Gold leaf kababs- kashmiri lamb seekh kababs, old Delhi Lamb chops, Rajput chicken kababs, Mughlai koftas and malai chicken roast served on a bed of saffron-infused biryani, complemented by a wide selection of our exquisite sauces, curries and raitas. This royal meal is served in a thaal and the Gold biryani is garnished with 23 karat edible gold edible gold.
The biryani takes almost 45 minutes to be prepared and the scrumptious offering comes with a wide selection of sauces, curries and raitas, including Nihari Salan, Jodhpuri Salan, Badami sauce along with Almond and Pomegranate Raita.
The Royal Gold Biryani' is made from three different types of rice including biryani rice, qeema rice, and white, saffron-infused rice. Its weight is about three kilograms.
Click here to read  more:
Kiran Malik In a Classic White Chickenkari Is All The Spring Summer Inspo Yo Need