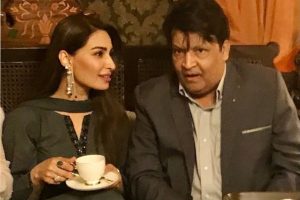 Reema's husband Syed Tariq Shahab will perform  the high risk procedure of veteran comedian Umer Sharif in the United States. Recently, Umar Sharif appealed to the Prime Minister Imran khan to help him in his treatment as he is suffering from heart ailment since long and needs financial support. He also asked the government to help him travel to the United States as soon as possible.
Former actress, Reema posted a picture woth Umer Sharif on her Instagram and the caption read, "Umer Sharif – one of the greatest comedians of the subcontinent and a real legend of all times. He always was working hard to make other people laugh and smile. Today it disturbs me to know that he is in pain and distress because of his grave illness. I am proud of my husband – Dr Syed Tariq Shahab who has agreed to perform the high risk procedure and is helping the family in his transfer arrangements to America. I have requested him to do all he can to help Umer Sharif Sahib recover from this illness. Thank you Tariq I pray to Allah PAK to give Shifa in your hand and to give Umer Sahib full and complete recovery. Aameen".
The Sindh has government  has issued a notification to release Rs40 million for the treatment of Umer and has also arranged an air ambulance for him to travel to the United States. Umer Sharif is travelling to the United States very soon as all arrangements have been done and we wish him a speedy recovery.