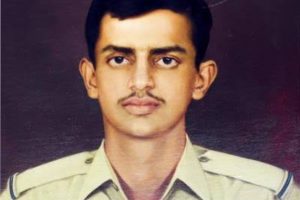 Rashid Minhas, the youngest achiever of top military award 'Nishan-e-Haider' is being remembered on his 50th martyrdom anniversary. He was born on 17th of February 1951 in Karachi and was commissioned as a pilot in the Pakistan Air Force in March 1971.
The Pakistan Army has paid tribute to Rashid Minhas, and Inter Services Public Relations (ISPR) said in a tweet, " On 5Oth Martyrdom anniversary, we remember with reverence, bravery & supreme sacrifice of National Hero Pilot officer Rashid Minhas Shaheed, Nishan-e -Haider. In line of duty, Pilot offr  Rashid Minhas lived up to great traditions of Pakistan Air Force defending the motherland."
On August 20, 1971, Rashid, was taxing out a T-33 Jet trainer for take-off, when a Bengali pilot instructor, Flight Lieutenant Mataur Rahman, forced his way into the rear cockpit and later knocked Rashid Minhas out, and headed the aircraft towards India. Rashid, regained consciousness and forced the plane to crash just 32 miles from the Indian border.