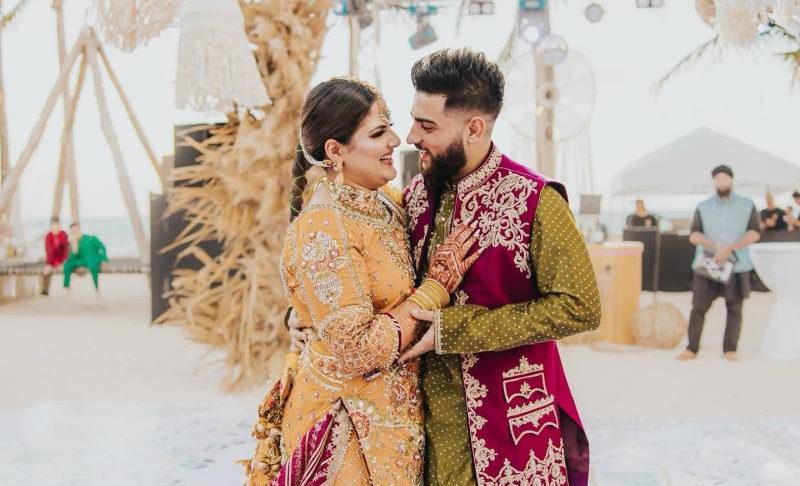 Mohsin Naveed Ranjha Design Studio with its fiery color palette and rich craftsmanship screams Punjabi glamour. His unique style has given him international acclaim with global icons adorning his creations on various important events.
Karan Ajula, a maestro in the realm of music, known for his upbeat style of music across the globe, chose none other than MNR for his big day. Karan Ajula, a part of everyone's Spotify playlists has a number of  popular tracks with millions of views on YouTube and Spotify.
We had the opportunity to have a one-on-one with Mohsin Naveed Ranjha himself to learn about the process of designing clothes for Karan Ajula.
"Karan and I connected naturally through Instagram. When Karan and his lovely wife Palak approached us, it felt like a conversation between friends."
Furthermore he added, "They had a specific vision for their Jaggo party/ceremony attire, and I could immediately resonate with what they were trying to achieve."
View this post on Instagram
Karan's wife Palak had a clear vision of what she wanted for nuptials. She insisted on something fresh, bright and peppy which she found in MNR's 'Genda Phool yellow gharara shirt'. Of course they customized it with her requests making it unique to her unique personal style.
As for the superstar himself, his requests included incorporating a striking color combination of an army green inner outfit and a plum waistcoat. As always MNR and team custom designed three outfits for him that resonated with his style but had a signature MNR charm to them as well.
When asked about his his experience of working with prominent celebrities, Mohsin answered: "The process is always organic, as it is with all clients – once they connect with a design, it becomes a creative journey."
He later added, "With Karan my priority was to ensure that the color palette aligned with his preferences and also stood out in the larger than life ambiance of a Punjabi wedding."
The brand's vision has always attracted people from across the globe. The designer's excitement and eagerness to fulfill his customer's demands while seamlessly incorporating the brand's authentic style is what really wins us over.