Prem Gali, an on-air drama serial featuring the super talented Farhan Saeed and Sohai Ali Abroo has Twitter's attention after it's latest episode after it featured a scene involving members of the transgender community and the main lead role Hamza (played by Farhan Saeed).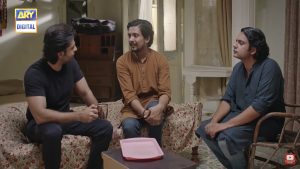 The audience took to social media to appreciate and laud the witter of the drama serial Faiza Iftikhar for not only acknowledging the transgender community but for also depicting the right way of treating it's members.
Here's what people are Tweeting regarding the drama serial:
@Faizabytheway touches such sensitive topics n delivers them so seamlessly 🤧❤️ #PremGali https://t.co/b26HRQ8kqZ

— Jiya🦋 (@_Jaweria_) December 8, 2020
the way that prem gali was able to tackle such sensitive issues of pakistan in such a subtle and sweet way just warms my heart🥺 hopefully this type of content is more common in mainstream pakistani channels

— amna (@amnii28) December 8, 2020
This Intellectual Lady @Faizabytheway knows how to get a message across her audience in a simple yet powerful way.#PremGali is lifting the veil from societal issues that we pass as trivialities, is acknowledging them of their importance and is giving solutions to them.

— PageNo70 (@PageNo70) December 7, 2020
The scene between Hamza & Khwaja saras was so heart-warming.
Where some residents were critizing & making issues outta new renters (is a bitter reality sadly) loved Hamza's gesture of welcoming them.
This drama touches many sensitive issues of society in a precise way👌#PremGali

— Ayesha-عائیشہ 🇵🇰 (@Ayesha_ZaYain2) December 7, 2020
The way they showed the positive image of Khuajasaraas..! 👍👏 #Premgali

— Bisma 🌼 (@Bisma933) December 7, 2020
#premgali has given the best message about transgenders
Hats off to the whole team for highlighting such issue @arydigitalasia @farhan_saeed @Qasimalimureed

— Tehreem Zahra (@Tehreemeey) December 7, 2020
https://twitter.com/MaryamJaffar_/status/1336124315906043905?s=20
Dramas these days are focusing more and more on sensitive topics that surely need more attention. The way the scene from the drama serial liberated the transgender community so seamlessly is beyond wonderful and worthy of special attention.
Kudos to the writer of the drama serial Faiza Iftikhar for writing a script that not only cracks great comedy but also incorporates important messages that need to be spread in the our society! That being said, Prem Gali remains an all time favourite.
Watch Prem Gali's latest episode below:
https://www.dailymotion.com/video/x7xy1ao
Let us know what your thoughts are on this by dropping a comment on our Instagram page. We would love to hear from you.
Until next time!