Pemra warns the creators of drama serial Fitrat for showing inappropriate dialogues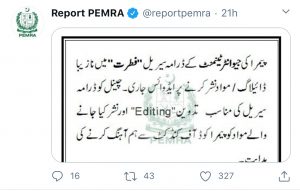 Drama serial Fitrat has been airing on Geo Tv and is a project of 7th Sky Entertainment. It is directed by Asad Jabal and produced by Abdullah Kadwani and Asad Qureshi. Saboor Aly, Ali Abbas, Mirza Zain Baig and Zubab Rana in the lead roles.
The drama revolves around Saboor Aly ( Fariya) who belongs to a middle-class family and has a very greedy nature, who wants to live her life in a luxurious way and  achieve her wishes and dreams through short cuts. She dreams to get married to someone who is very rich and who can fulfill all her desires.
She gets involved in a relationship with Ali Abbas (Shahbaz) who is very rich and both secretly get married to each other. As they both decide not to disclose their marriage, Shahbaz lives in Karachi and Fariya continues to live in Islamabad. A twist comes in their relationship when Shahbaz sees his wife Fariya in a bedroom with a politician who is thrice her age. He then sends her the divorce papers and ends the relationship.
The drama unfolds another major twist when Fariya gets involved with Shahbaz's younger brother Zain Baig ( Arbaz) accidently and decides to trap him. The drama shows many events further which are just not near to the reality. Arbaz decides to marry Fariya and Shahbaz is not allowed to meet his brother's wife before the ceremony. Fariya makes evil plans to take revenge from Shahbaz and Arbaz is totally under the influence of his wife as Fariya is disturbing the whole family by misbehaving with everyone yet her husband is not able to understand.
Pemra has asked the creators and GEO Entertainment to revise its editing policy as they are receiving complaints from the viewers of inappropriate dialogues and content of the drama. There are a few bold scenes and dialogues in the drama which are not liked by the viewers and this is the reason Pemra has sent a notice to the production house and the channel to align its editing policy with PEMRA's code of conduct.