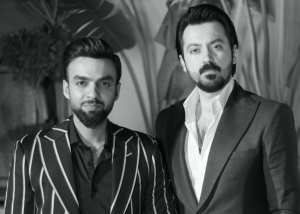 Grooming Extraordinaire and creatives, Waqar Butt and Ali Khalid started their journey in Sialkot almost a decade ago. The duo hasn't looked back since then and are pioneers in redefining the men's salon culture in the country. After a successful run in Sialkot and Gujranwala, Paragon Salon further expanded to Lahore and has since then been a celebrity favourite unlike no other.
We had a chance to sit with the duo in person and we're in awe of the progressive mindset that inspires them every day.
1) Your Salon aims to provide professional services to the masses, with increasing inflation and economic consciousness, is that still a possibility?
At Paragon, our vision has always been to democratise executive high-end salon services, making them accessible to the masses. In an age of escalating costs and inflationary pressures, we remain steadfast in our commitment to providing budget-friendly options that cater to the needs of the wider public.
2) You are the 'it' salon when it comes to celebrities, how did you break into the scene? Any tips on building such meaningful connections?
At Paragon, we offer premium fashion photography services to esteemed brands and designers, affording us the opportunity to shoot with celebrity clientele. This has enabled us to foster strong connections with renowned individuals, and as our Salon and photography business continued to gain widespread recognition, we have welcomed an increasing number of high-profile celebrities to our Salon as well.
3) You have a very humanistic and patriotic motivation behind the expansion of your brand, were such values always a part of the brand's vision?
At Paragon, we are committed to making a positive impact on our country by creating job opportunities and empowering individuals with valuable skills that can help them build sustainable livelihoods. As we approach the opening of our 5th branch in DHA, and with a team of over 80 members, we are proud to be making steady progress towards our goal. Beyond being a thriving business enterprise, our overarching mission is to maximize employment opportunities within our company.
4) Has the increase in social media presence and influencer culture in the last decade affected the way Salons function in the country? How do you go about it?
As an entrepreneur, it is crucial to keep pace with the fast-evolving world, especially social media, and remain ahead of the curve. At Paragon, we are dedicated to staying on top of these changes, but our unwavering business philosophy has always been centered around one simple tenet:
"خوش مشتری، خوش کاروبار" From day one, we have placed our clients' satisfaction at the core of everything we do, and this has been the cornerstone of our success.
5) What comes first, the business aspect or the creative aspect? Is there a magic rule to strike a balance?
At Paragon, we embrace the notion that success is not defined by a magic formula, but rather by the ability to persist through failure and continually strive for improvement. As the saying goes, "The master has failed more times than the beginner has ever tried". With this mindset, we recognize that making mistakes is an inevitable part of any business journey, but it is through learning from these experiences that we grow and progress each day.
6) With a plethora of grooming services in the market, what keeps you on the top and how do you maintain that?
At Paragon, we strive to create an exceptional experience for our customers, going beyond the provision of a high-end ambiance, skilled staff, and a luxurious environment. We endeavour to make every single client feel truly special within our premises, offering a grooming experience that transcends the mere provision of services. Our ultimate goal is to provide a truly unparalleled experience that our customers will cherish and remember long after they leave our doors.
7) What is the best and hardest part about your job?
At Paragon, the most fulfilling aspect of our work is witnessing the sheer delight on our customers' faces when they are enthralled with the services we have provided. However, achieving this level of customer satisfaction requires immense dedication and hard work day in and day out.
8) What is the next step for Paragon Salon?
We are delighted to announce that, by the grace of ALLAH, we are opening our fifth branch in DHA Phase 5 Lahore around Eid. This state-of-the-art facility boasts a seven-story building, featuring segregated floors dedicated to our male and female clientele. At Paragon, we are committed to setting a new standard of excellence in the salon industry, and we are sparing no effort to ensure that our new branch will be one of the largest and most cutting-edge salons in all of Pakistan.