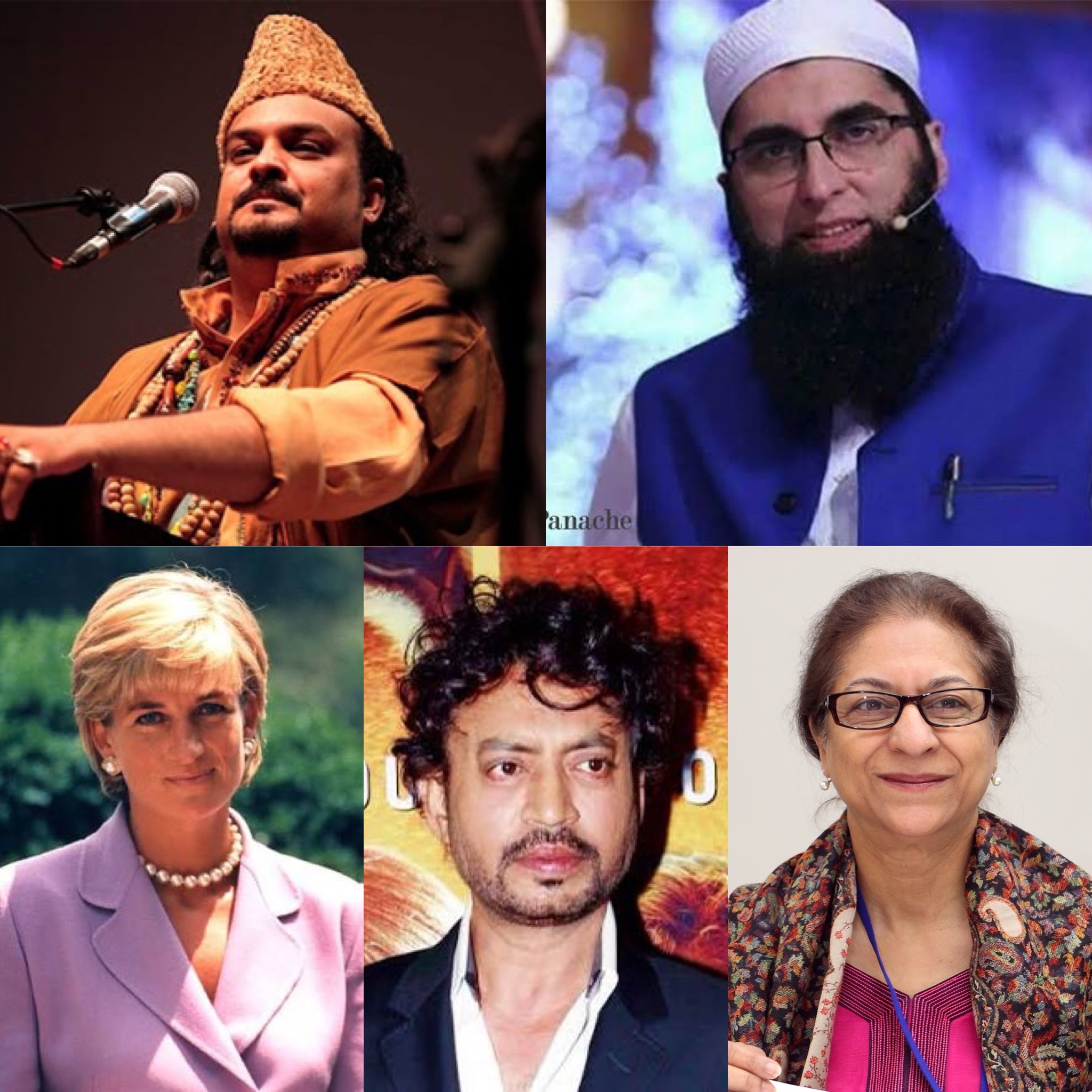 Someone on Twitter started a very interesting thread which asked people to share celebrity deaths which may have hit them the hardest. To which Pakistanis recalled the times of sudden shock and surprise when finding out about the passing of certain celebrities or public figures.
Here's what they had to say:
Junaid Jamshed, Asma Jahangir, Abid Ali, Rauf Khalid and Irfan Khan..I cried for all these. ☹️☹️

— Fatima Anwar (@fatimasadozai) June 9, 2020
Junaid Jamshed. I still struggle at times to come to terms that he is no more. https://t.co/keLXjqJb70

— انس (@AnasMagnificent) June 9, 2020
Amjad Sabri. Sat on office stairs for sometime to digest the news. Next Sehri, TV showing one of his naats and I hardly controlled. Huge loss.

and then Ali Raza Abidi. Ab tak samajh nahin aaya what they did to him.

Junaid Jamshed. We all had attachment with him at some stage. https://t.co/rxEFRul96c

— Jibran T. Siddiqui (@jibransiddiqui) June 9, 2020
Junaid jamshed… The hardest time of my life 🙁

— Young Chemist (@khadijabatool98) June 9, 2020
Lady Diana, Amjad Sabri, Moin Akhtar, Junaid Jamshed, Robin Williams, Irrfan Khan… #GoneTooSoon https://t.co/5xLnx8UCwG

— Mahwash Ajaz 🇵🇰 (@mahwashajaz_) June 9, 2020
Junaid Jamshed.
Amjad Sabri.
Irrfan Khan. 💔 https://t.co/M8ReVESnHY

— Nimra Mir (@NimraMir) June 9, 2020
Junaid Jamshed. It was ao shocking. I couldn't control my tears https://t.co/pNgNjJYzwe

— Noorain Khan (@charsi_kuri) June 9, 2020
Amjad Sabri, Junaid Jamshed. https://t.co/9dMaglWhnV

— Ali (@AliMumtaz92) June 9, 2020
Was in the news room when Chitral plane crash news came and there was chaos all around. Junaid Jamshed was in it too, it was difficult to process.

Amjad Sabri's last naat still makes me cry

— Mahnoor Sheikh (@mahnoorrsheikh) June 9, 2020
Junaid Jamshed Bhai When Some one insult him in Airport and When he Dies in Plane Crash….Cried for Him https://t.co/ufUFRRDzcK

— Saani (@silentpakhtoon) June 9, 2020
Michael Jackson. Spent my entire childhood idolising him. Amma and I both.

Amjad Sabri. I STILL CAN'T DIGEST IT.

Junaid Jamshed. It's still unbelievable. Plus he died in a plane crash. And believe me, no one deserves to die like that. https://t.co/LUT6F0Z3dd

— رے (@RaboRamblings) June 9, 2020
Many Pakistanis recalled Junaid Jamshed's sudden passing as the one which hit them the hardest amongst many others like Amjad Sabri, Lady Diana, Irrfan Khan and Asma Jehanghir.
Junaid Jamshed fell victim to a deadly plane crash on the 7th of December 2016. Reportedly, former vocalist was was in Chitral, along with his wife, Nayha Junaid, for a Tablighi Jamaat mission. The two were returning to Islamabad aboard PIA Flight 661, which crashed near Havelian, Khyber Paktunkhwa, killing all on board. The news of the crash itself was a huge blow for the nation – finding out about the tragic demise of one of Pakistan's most loved personalities sent everyone in a shock, making it hard to register the reality.
The fact that people still recall about the deaths of celebrities in such ways is proof of how profoundly they are still loved even after their demise. After all, they say, legends never die!
Which celebrity death hit you the hardest? Let us know by leaving us a comment on our Instagram page!