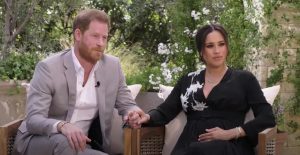 In a conversation with Oprah Winfrey, Meghan Markle and Harry made some shocking remarks regarding the royal family and the backlash they had to face after they got married. Major concerns included a conversation of their son's skin color making racism a major point of discussion, an argument with Kate Middelton, Harry's relationship with his father Charles, their mental health issues and suffering.
Tabloids, television channels and social media has been ablaze ever since the interview went live. Many people are taking sides and are giving in their two cents. Many international celebrities including Beyonce has also responded to the interview, some are of the view that Meghan has been courageous in her attempt to stand up against racism and oppression while some are thinking of it as an exaggerated façade constructed to garner attention.
While the remarks made by Meghan and Harry made waves on the international scale, for Pakistanis it appeared relatable, from not getting on with your saas vibes to the colour of the skin of your new born baby, all of these highlights seemed very true to home. Scroll down to see how Pakistani twitter has been reacting to the interview.
Anyone else feel like Harry and Meghan are the lovely couple in a desi family and the UK are the judgemental aunties hating on them 🤭

— Yasmin M 🍃 (@Serotonin_Simp) March 8, 2021
Ekta Kapoor will soon launch a new soap-opera with 300+ episodes for Indian audiences based on Harry and Meghan's interview with Oprah.. #RoyalFamily #OprahMeghanHarry

— Alok Shinde (@AlokSShinde) March 9, 2021
the only way my parents would watch the Meghan and Harry interview was if it was delivered in an Indian soap opera format pic.twitter.com/sqrEn3kiXG

— Kamil Karamali (@KamilKaramali) March 9, 2021
"susraal pe kabhi koi dam ya taweez kia hai?" pic.twitter.com/y2TbtypWgL

— Draft Punkh (@antifatwa) March 9, 2021
— tarbooza kharbooz (@nakaamrade) March 9, 2021
Shahzada Harry k Hairat angez inkashafaat! pic.twitter.com/HOZXqOWO1O

— Husn Hai Suhana (@Fatmounh) March 9, 2021
"shahi rakh rakhao, aish o ishrst ki zindagi, naukroun ki fauj aur araam, takht ko laat maar kr takleef toh hui hogi" ~ Sohail Warraich pic.twitter.com/A2gLsYnfE2

— sugar kaka (@sugar_kaka) March 9, 2021
Inspired by a true story joint family dispute I know pic.twitter.com/leTfn4yIue

— Amna Khan (@amnaukhan) March 9, 2021
Every Imran Khan speech be like pic.twitter.com/0k1F6gArVI

— Haider 🍁 (@hodornm) March 9, 2021
Why would they say that pic.twitter.com/Jwh5NZkKdN

— Pakchikpak Raja Babu (@HaramiParindey) March 8, 2021
View this post on Instagram
View this post on Instagram
View this post on Instagram

What are your thoughts on Ophrah's interview with Meghan Markle and Harry, do let us know in the comments section, here.