Meeting a celebrity you adore can be an exhilarating experience, but no one imagines the awkwardness that follows when something weird happens during the interaction. This was a question a writer Lauren Modery dared to ask, and we were greeted with some hilarious insights into how some people fell, were shaken up or even couldn't speak properly when they had the chance to meet their favorite celebrity.
Tell me the strangest interaction you've had with a celebrity.

— Lauren Modery (@Hipstercrite) January 24, 2022
But the comments became even more hilarious when Pakistani twitter came in with their experiences and we would love you to read through some of them
This user started the conversation by sharing the time she had a hilarious interaction with singer Ali Noor
Met Ali Noor years ago. Went to get his autograph. He asked me my name, I said Noor. He said oh do you know my name is Noor too…
Bro I'm literally here asking for your autograph, why wouldn't I know… https://t.co/OmLmzLfEy5

— Noor (@NoorHSumra) January 27, 2022
Soon even Ali Noor found the tweet and shared it on his Instagram stories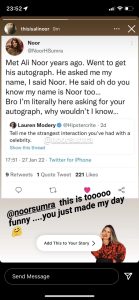 We found some even more hilarious takes from people like model and actress Eman Suleman's brother Khayan, who shared a funny moment he had with her
I was on a swing and Eman Suleman came running forward. My foot hit her face. https://t.co/9jctTARvlQ

— Haramcore (@7kayhan) January 27, 2022
And then we spotted some our favorite celebrities like Atif Aslam among these hilarious interactions
Atif Aslam's room was across my mom's at REDC so I kinda just sat down w the door open (low-key like in the middle of the hallway). He came out after a bit and he was like "….what…are u…doing?" n I was like "uhh waiting for u" Pretty embarrassing but he was rly nice I love him https://t.co/OSxWIqsLj0

— sania (@saniarashid21) January 27, 2022
Met Atif Aslam at his house with my sister, and while we were talking, he asked me what I was studying. I told him I was a med student (at the time), and then he proceeded to write me a prescription for Panadol as an autograph. He's a whacko but I still love him 😟. https://t.co/Odn1LDq7TF

— Sarah (@itsSarahAman) January 27, 2022
This one is *chef's kiss*
Ok but real talk, I met Kumail Nanjiani in London and he said my name sounded fake

I just stared at him… bro your name is Nanjiani https://t.co/9MOE1REZrU

— zohair (@shayadzohair) January 27, 2022
i was chilling at the PTI HQ because my dad was working with SMQ and there was this dude staring at me like i was suspicious. i started staring back at him like he was suspicious. we had a staring contest and i won. asked my dad who that man in the corner was. it was abrar ul haq https://t.co/veSsAUzxma

— #JusticeForNoor (@palakpakora) January 28, 2022
Did you have a strange interaction with a celebrity? Do let us know in the comments!