Recently, we have seen a surge in TV dramas that disregard and diminish the plight of women in the country, by treating serious issues such as ideas about women speaking out about harassment, women being mentally abused and mistreated at the hands of known or unknown men, and in-laws in a lighthearted and comical fashion. But really somebody needs to ask what is so hilarious and amusing about the constant degradation and ill-treatment of women?
After all, why are these dramas so disconnected from ongoing instances of abuse in the country?
In recent years there has been a worrying surge in gender-based crimes against women. One really wonders how it is possible for the TV industry of the country to be so extremely irresponsible when it comes to on-screen depiction of women and the issues they face on the everyday,  in the Islamic Republic of Pakistan.
Following are just some scenes from dramas currently being aired, that have recently been making the rounds.
Geeti blackmails a poor shopkeeper with false harassment allegations 
A scene from the Hum TV production 'Laapata', propounding the idea that women who come out with harassment allegations are basically concocting stories to achieve personal and ill-intended gains.
wtaf? Why do these dramas have to make a joke out of something like harassment pic.twitter.com/y9T0M942Ff

— baji (@baajijan) July 29, 2021
 Isra agrees to marry a psychopathic male personality as he pressurizes her to accept his proposal on gunpoint
The drama 'Ishq Hai' which depicts Shahzaib (Danish Taimoor) and Isra (Manal Khan) celebrate what can be described as a perfectly toxic relationship. The two are unable to get married as Isra's parents do not believe in 'love marriage', after which Shahzaib begins to display seriously psychopathic behavior- acting like a stalker, a man who cannot take no for an answer and simply put, a toxic ex. As the drama progresses, he even goes to the extent of kidnapping Isra on the day of her wedding and emotionally blackmails her into marrying him instead.
In-laws lie to newly wed couple about parents falling sick to sabotage their honeymoon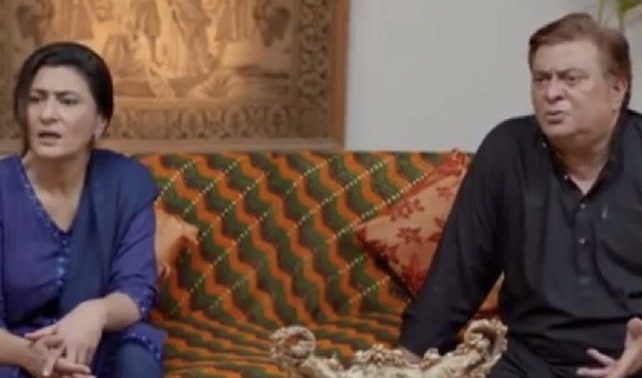 The drama 'Mujhe Vida Kar' where parents of Muneeb Butt, who plays the male lead are shown to be furious at the bride because she has gone on her honeymoon, and lie to the newly weds about their ill health to manipulate them into returning home! Giving off the idea that women must immediately get to handling all of the manual labor and pleasing in-laws, ignoring all possibilities of building a relationship with their husband, or else meting out mental torture to her will be a natural consequence.
In the past two weeks we have seen a nerve-racking number of cases of femicide with countless victims such as Noor Mukaddam, Qurutulain and Saima being lost to violence at the hands of men. Meanwhile, what our media is depicting is stories that are constantly siding with ill-behaved men, and are portraying women in a negative light..
What is this if not an extreme situation of blind prejudice, insensitivity and tone-deafness against the plight of women in our country on behalf of the TV industry? And what impact is it leaving on the public?