Pakistani classic sitcoms and dramas are an all time favourite of our parents and equally enjoyed by the young generation.
Pakistan has the biggest treasure of dramas from the beautiful and golden era of PTV and now with various new channels doing complete justice to our drama industry.
Our dramas have always been popular in the sub-continent region especially across the border and undoubtly we have a strong command over making fantastic dramas.
Pakistani dramas have made colossal strides over the last decade, raising the bar for innovation, realsim and strong scripts. Starting off from PTV we have a list of hit dramas with legendary actors, a power-pack of amazing performances with strong scripts yet set on a slow pace that are still a treat to watch as they take you back to the time when everything was very calm; peaceful times!!
As the society has and is evolving we have come up with great dramas addressing issues which were never given importance and are no doubt helping in bringing awareness.
Just to take away your attention from some serious dramas as we already have alot of stress around us due to the pandemic we have short-listed some of the best Pakistani sitcoms that you can watch and enjoy.
Alif Noon:
Alif Noon is a 1965 iconic comedy television series by  PTV written by Kamal Ahmed Rizvi. The cast consisted of Rafi Khawar  known as Nanha and Kamal Ahmed known as Allan. The show revolved around two main characters: Allan, a clever business-minded person looking to earn fast money by any means necessary, and Nanha, Allan'sstooge, an innocent and gullible person from a rural area who loved his country and always dreamt of earning an honest living.
Rosy:
The (late) lengendary actor Moin Akhtar got a huge fan following from this drama, Rosy (in 1990) which was actually an adaptation of Hollywood's Tootsie featuring Dustin Hoffman. Rozy is a tale of an actor (Moin Akhtar) struggling to make it in the drama industry. His chance comes when an actress fails to convince the director that she is suitable for the role given to her. Moin steps in, dressed as a woman and impresses the director, who casts him in place of the original actress.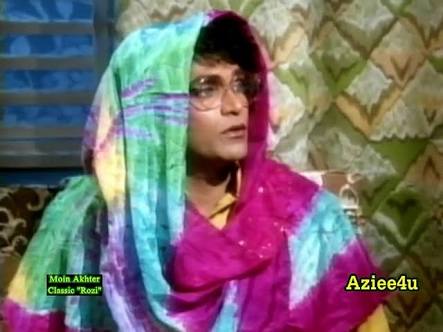 Aangan Tera:
Aangan Tera was a satirical Pakistani drama presented by the PTV network in the year 1984. The show starred Salim Nasir, Shakeel, Arshad Mehnood, Durdana Butt and Bushra Ansari in lead roles. It was directed by Qaiser Farooqand written by Anwar Maqsood.  The drama is based on many stories on multiple issues of the society and indirect criticism of the Martial Law and the military regime in Pakistan and the electoral system. The other "muhallay daarl feature in the play, but the main dynamic of this comedy follows Mehboob Ahmed and his household.
50 50:
50 50 is a popular PTV comedy series which was aired on the national television PTV from 1978 to 1984, based loosely on the American comedy show Saturday Night Live. The programme was a sketch comedy considered by many critics as one of the best television shows to be produced in Pakistan. Regulars on the show included TV actors Ismail Tara, Zeba Shehnaz and Majid Jehangir. Some golden-era songs of Naheed Akhtar and Ghulam Ali were also featured on the show. It was produced and directed by acclaimed Pakistani film and TV director Shoaib Mansoor and written by Anwar Maqsood.
Ainak Wala Jin:
Ainak Wala Jin was a 1993 series for children produced and broadcast by PTV from Lahore. This drama was rebroadcast two times on television in Pakistan due to public demand. It was widely popular among children for its humour and fictional storyline. The team including Hamoon Jadugar, Zakoota Jin, Bill Batori, Hafeez Tahir and some other actors visited 2005 Kashmir earthquake-affected areas with the President Of Pakistan to bring back smiles on the faces of mentally stressed children.
Sona Chandi:
Sona Chandi is a classic comedy-drama serial produced by PTV. The story of the drama revolves around a couple who comes to a city in search of work. The role of Sonais played by TV actor Hanid Rana and his wife Chandi (Sheeba Arshad). This simple, innocent couple while performing their domestic-help jobs in different houses. The couple help many people in solving their problems.
Loose Talk:
'Loose Talk' was a long-standing double act which began in 2005 on Ary Digital. Moin Akhtar  appeared as a different character in each episode with a total of over 400 episodes interviewed by the TV host Anwar Maqsood who was also the writer of the programme. Some episodes also features Bushra Andari. The two famous names of our entertainment world would keep the audience glued to their screens while talking about various social and political issues. The idea behind 'Loose Talk' was to educate people in a humorous way.
Kollege Jeans:
The hilarious sitcom, 'Kollege Jeans' was revolved around the campus life of National Arts Council (NCA). Directed by Jawad Bashir the play proved to be a turning point in the career of many talented artists including Faisal Qureshi, Ahmed Ibrahim, Samina Ahmed, Tariq Abro and Ali Zafar. It showed  all the elements of typical university life in its under 30 minute episodes: relationships, assignments, rivalries and NCA's famous ragging.
https://m.youtube.com/watch?v=IrMm232MV4M
Family Front:
Family Front was a 1997 Pakistani comedy drama sitcom. The cast included Saba Hameed, Samina Ahmed, Waseem Abbas, Mira Hashmi, Iram Hassan, Shahzad Nasim and Naseem Vicky. This comedy show became highly popular among the people and ran for many TV seasons. Family Frontrevolved around a family that tries really hard to keep up with Joneses. Their antics ranged from venturing into the spoof business to getting fooled by swindlers.