Spring is just around the corner and the wedding mania is still in full swing all over Pakistan. The warmer weather is upon us and if you're planning an outdoor wedding or have a wedding in your family or friends that you plan to attend in the coming weeks or months the time to get your bridal dresses and party attire is now!
The latest bespoke bridal collection 'Tales Of Her' by couture designer CAIA has been making waves with its beautiful classical designs that perfectly capture the essence of luxury, class and grace.
The immaculately designed pieces are perfect for the bride and her bridal party. Intricate pieces adorned with remarkable hand embellishments remind us of a gorgeous fusion of the Victorian and Mughal era with contemporary designs all spread out on a striking colour palette.
Check out our Top 5 Picks from the CAIA 'Tales of Her' Collection
The Crimson Queen
This gorgeous vibrant shade of crimson has stolen our hearts, the delicate embroidery in gold and motifs are striking is sure to turn heads. The puffed up sleeves are inspired by classical Roman designs and exudes luxury and flamboyance. The flowy lehenga and ruffled front paired with the beautiful embellishments and baroque is all you'd want to wear on your big day! We love how it is paired with a delicate dupatta not taking away the spotlight from the dress itself.
View this post on Instagram
The Duchess of Violets
Have a day function? This dreamy piece is just what you need to make you stand out from the rest. With hand placed embellishments, embroidery and stone crystals this charming periwinkle raw silk gown is all you need to elevate your valima day with extraordinary grace. The beautiful gown is unique and gives a fairy tale vibe.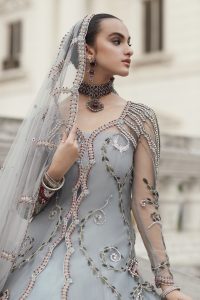 The Sapphire Siren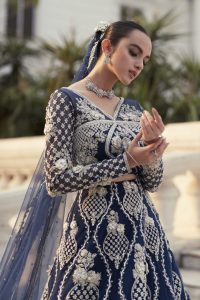 View this post on Instagram
A spectacular, glamorous bespoke bridal ensemble is as regal as can be! The article is net based and features special 3D flowers all over the shirt and lehenga along with pearl embellishments. The charming combination of the royal blue with silver embroidery topped with pearls is a must have for wedding festivities.
Amora

Every woman needs a pretty black dress in her closet and out fashion icon 'Amora' is all that and more! The sleek silhouette black dress is gorgeous and can be paired with blingy accessories for a wedding that you're attending or can be added to the bridal trousseau for post wedding dinners hosted in honor of the newlyweds.
Estelle
The soft pastel hues this outfit exudes is all that we need this wedding season. With just the right amount of bling, the net based ensemble has a chic design with a geometric patterned cape that has caught our eye. The flowy skirt has an exotic vibe that we're absolutely head over heels for.
View this post on Instagram