Recently, a debate sparked over Twitter about whether men, regardless of how 'progressive' they may become, would ever get comfortable with the idea of being with a woman who is more successful than themselves. It all began when a user posted "Trust me, no matter how "progressive" men get, they'll never choose a girl more accomplished and successful than them."
Ever since, Twitter has been divided in its opinion, with many Twitter users believing the statement to be absolutely true. While others claimed otherwise, saying that men are not necessarily this shallow and in most cases do manage to be happy for their partners, even if they end up being more successful than them!
Many users posted comments in favour of the fragile male ego being so destructive and prone to jealousy that it simply choses to stay away when confronted by a woman more accomplished than themselves.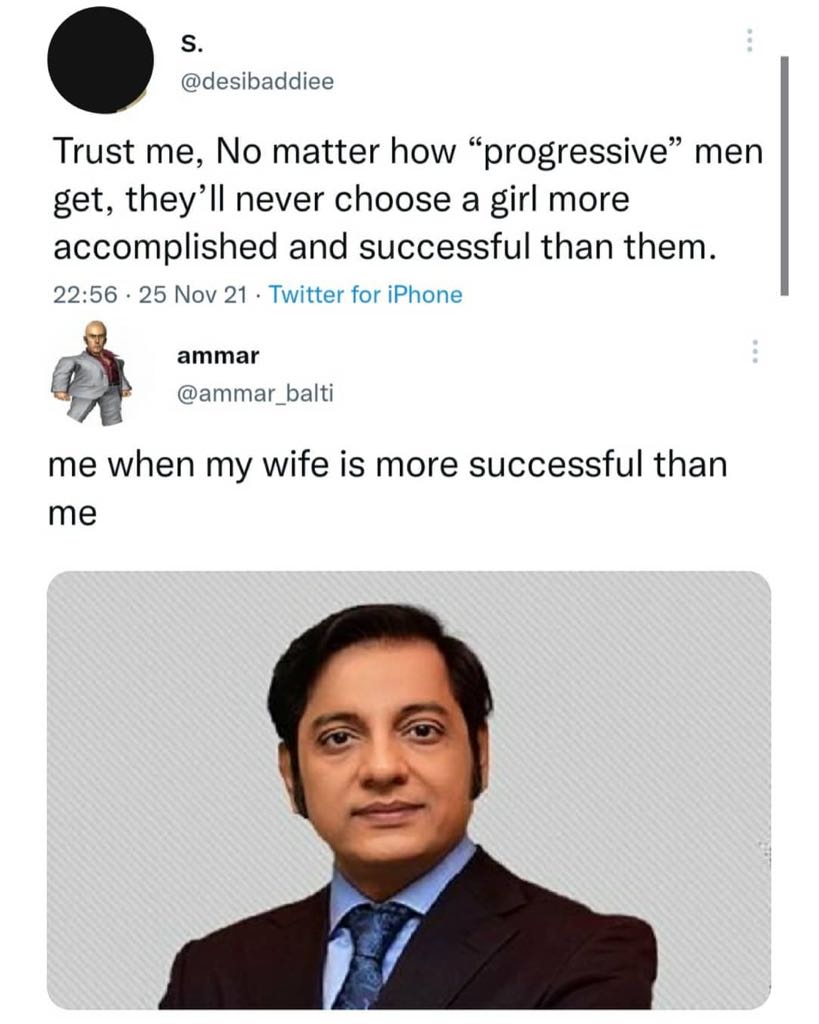 While others came out to give their own example, saying they would be equally happy if their partner happened to be more accomplished than them, as "Real men know they are not competing with their wives."
I'm not even particularly "progressive" but a more accomplished/successful wife would be fine by me. Real men know they are not competing with their wives.

— Scott Graham (@MacGraeme42) November 26, 2021
If you are brought up well without complexes, you won't be threatened by a successful partner.

— Haider Ali (@haidersays) November 26, 2021
Meanwhile, many others debunked the claim, giving examples of couples which they believed constituted of the female in the relationship being the more successful one.
Captain Safdar Married Maryum Nawaz… What are you talking about?

— MrLoudMouth (@kashifzuzu) November 26, 2021
What are you on about???@MalikAsser married @Malala and this is enough to put your argument into dustbin. pic.twitter.com/EhOS9V8nwA

— Sikander Asif 🇵🇰 (@SikanderAsif11) November 26, 2021
Finally, there were also some who wisely said, man or woman it is never wise to chose a partner based on how much 'success' they have in life!
Such a bad gesture for both men and women is that they choose their partner on the basis of Is he/she more successful or not successful than me? Instead of living a life with a person whom with your bonding is good and you both respect each other equally!#BetheChange #Change

— Babar & Rizwan are Just Love (@OmerLovez) November 26, 2021
 What are your thoughts on the subject? Let us know in the comments below!