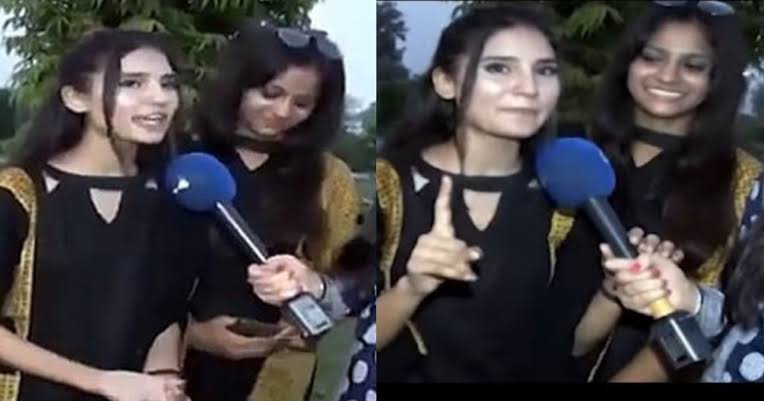 A girl by the name of 'Nimra' is currently trending on Twitter. While many of you may be slightly confused as to why, here's a little backstory for you.
On a show aired on a local television channel, a girl by the name of Nimra made an appearance who took the audience by surprise with her zest for life, charged energy and over-the-top excitement as she kept the audience entertained with her lively persona while her dream of appearing on television materialised.
Watch Nimra live her best life below:
https://youtu.be/mcnyCoqoKpg
In the current extraordinary times, while the masses are generally struggling to keep up with life, Nimra's energy and zest for life is no doubt an energy dose in itself! Just watching her live in the moment and appreciating the mere opportunity to appear on television makes us wonder, there's so much to be happy and grateful about yet more often than not, we tend to let the 'not-so-good' get the best of us!
Nimra came as a reality check to the people, no doubt! Here's how Twitter is reacting to the happy star:
Nimra Wala Confidence Or Excitement Yess Karwaoo Bs😩✌️✌️.#Nimra pic.twitter.com/ym7KjQoxAT

— 𝑺𝒂𝒂𝒅𝒊𝒊👑👑(OptimisticProfessor🔱🌚) (@saadii102) September 19, 2020
This video will make your jaw hurt, too much excitement and happiness in just 2 minutes. pic.twitter.com/9gatcHcGAf

— Rumpoptarts (@gingerahad) September 16, 2020
Just watched the video of Nimra
wow, what an energy level,
what a confidence,
what an excitement to be on camera. #PakistanMovingForward #Happiness pic.twitter.com/86rqgB3Sjj

— Abdullah Bin Waqas Khan (@AbdullahRind990) September 18, 2020
Madam kii to sirf Tv p aamy kii wish thii but ab pura Pakistan daikh rha inko…. kia bandii hy yaaar🔥🔥Rocking personality #Nimra pic.twitter.com/XquCBff2ND

— Huzaifa Khan (@Huzaifayk_24) September 19, 2020
It's morning and still she is on trend yet I'm watching this Girl and can't resist my jaws open laughing.
She has set a Swag of happiness and cherish.#Nimra pic.twitter.com/Aru4agGVqJ

— Sajid Ali (@SajidTyo) September 19, 2020
In the world full of Depression be like Nimra #Nimra pic.twitter.com/NHAuLMQiVZ

— Wasim noon (@wasimnoon162) September 19, 2020
https://twitter.com/Mansooraliikha1/status/1307183924242771968?s=20
#Nimra
My Contribution in Final Project is like Nimra's cousin pic.twitter.com/uJHsIYGF6C

— Jannat Mehar🇵🇰 (@IamJannatt) September 19, 2020
Bs esa confidence chahiye😜#Nimra pic.twitter.com/k17b0VVzky

— Jannat Mehar🇵🇰 (@IamJannatt) September 19, 2020
#Nimra
The Girl is giving us lesson we must be jully in mode and we must remain happy always. There is nothing in depression. Depression is a slow poisoning that kills a person internally. be happy be chill and enjoy your life. Remember Allah Almighty Always.

— Adv Hadii Rajpoot (@Neutralboy11) September 19, 2020
While the Twitter is loving to optimism of #Nimra there are few pathetic jealous memers/trolls(if that's what you call your lame occupation)
The only reason she got so viral was not because she was faking(tiktok shit). She was genuinely happy & excited to be on screen. Bless her https://t.co/zDkQSKtIib

— Ahsan Ahmed (@ahsanahmed94) September 19, 2020
She's such a cutie😍#Nimra pic.twitter.com/K3x6NQjGl5

— Sayedazeinabnaqvi (@zeinabnaqvi7) September 19, 2020
Pyar Ke Sadqay actress Yumna Zaidi also took notice of the hashtag #Nimra and compared her to her character Mahjabeen from the drama serial!
Yumna Zaidi sees a hint of Mahjabeen in internet sensation Nimra Ali and we agree 🤩💕 @yumnazaidi3 #NimraAli pic.twitter.com/Pa9ov9KETm

— Galaxy Lollywood (@galaxylollywood) September 18, 2020
Nimra is clearly a pure soul, oozing with innocence! We wish her a ton loads of happiness and thank her for giving Pakistan a nudge to self-reflect and perhaps live life just little more in these strange times!