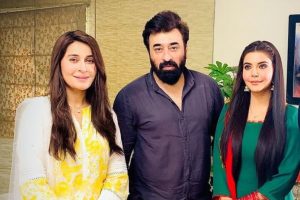 Nida Yasir, Shaista Loshi and Yasir Nawaz pair up for a telefilm "Uff Ye Biwiyan". It is an Eid special telefilm and will air on Ary Digital. The executive producer and director of the project is Kashif Saleem.
Shaista is making a comeback on the tv screen with drama serial Pardes after almost three years. The drama has a big cast and Shaista will be sharing the screen with Sarmad Khoosat for the first time. Shaista said that she is equally excited for this telefilm as well as she will be sharing the screen with Nida Yasir for the very first time.
Nida Yasir is also returning to the television screen with this telefilm with husband Yasir Nawaz and Shaista. Nida is hosting a morning show on Ary Digital(Good Morning Pakistan) and has not been a part of the drama industry for a while. In this regard, Nida took to her Instagram account and shared, Acting after 10 years.dont forget to watch this Eid."
"Uf Ye biwiyan" is an eid special telefilm that revolves around a man (Yasir Nawaz) who has two wives, the first one is Nida Yasir and the second one is Shaista Lodhi. It will for sure be a good source of entertainment as Yasir Nawaz struggles to make peace between the two wives.
Nazish Jahangir and Hammad Shoaib will also bee seen in the telefilm and we just cant wait for the telefilm!
Here is a link to the official trailer:
Eid Mubarik to everyone in advance 🙂