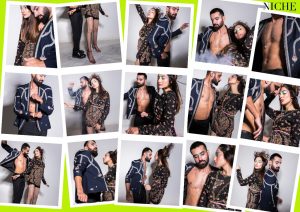 Fahad Hussayn Imaginarium SMC (PVT.) LTD is a host company to unique Fahad Hussayn signature products under two brands , Fahad Hussayn couture & PRINTMUSEUM ,headquartered in Lahore, Pakistan.
Founder and creative director Fahad Hussayn is a critically acclaimed fashion extraordinaire & master couturier, his designs depict history, art, architecture & diverse cultures all meshed with modern & contemporary sensibilities.
Specializing in " Art Couture", "Exclusive limited Edition Prints", "Bespoke Menswear" , "Custom Commission Novelty Creations" & "Bridal masterpieces" , Fahad's signature creations use extensive design research and development .His style is known for its traditional revival hand embroideries, vintage grandeur, outstanding artistry, intricate embellishments & contemporary patchwork techniques in a ballad of epic fusion.
NICHE LIFESTYLE PRESENTS AN EXCLUSIVE EDIT OF OUR FAVORITE FASHION HITS FROM FAHAD HUSSAYN