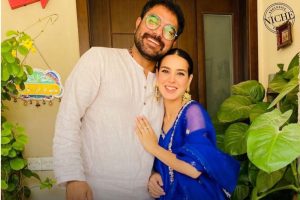 Yasir Hussain shared a heart-warming video of his wife Iqra Aziz singing 'Baby Shark' to their new-born baby and said that we should never judge a mother on how she raises her child as this is the most difficult yet a very special journey of a mother.
View this post on Instagram
He further added, "Never judge a mother. Woh bachy ko kesy palti hai kya sikhati hai kya sunati hai. Agar mai ne yeh sab pehly dekh lia hota k maa ka bachy ko palna kitna mishkil hai toh mai apni amma se kabhi aankh mila k baat bhi na kar pata. Maa ka rutba bohot bara hai. Aaj ya kal, hamesha maa maa hai."
Yasir also supported Nadia Hussain when she called out  Abrar-ul-Haq's for his comments on mothers. Abrar criticised young mothers by saying that when we were very young our mothers used to recite Kalima for us but nowadays mothers give mobile phones to their toddlers and sing baby shark to them.
Many celebrities came forward to support Abrar and some got really upset with his remarks. Let us know in the comments section on our Instagram page about your thoughts on this.