Share this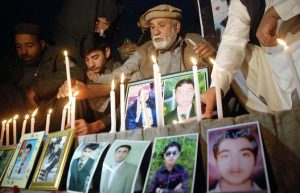 The nation is observing the sixth anniversary of the unforgivable and horrific APS attack. On 16th of December 2014, six terrorists affiliated with the banned Tehreek-i-Taliban conducted a brutal attack on the school and killed 132 innocent students and 17 staff members.
Pakistanis have taken to social media to remember and mourn the loss of teachers and students involved in the tragic incident. Here's what people are saying:
A horrible and darkest day in the history of Pakistan where these terrorists attacked poor souls slaughtered 150+ leaders a weak step to demolish our roots to destroy that nation and they really failed since now we are stronger and United than before #APSPeshawar #APS_ToHeaven

— Muhammad Bilal (@mbpeter0014) December 16, 2020
Prayers for the martyrs of APS Peshawar attack.#APSPeshawar #APSMartyrsDay pic.twitter.com/uVKq8sZsmq

— Ahmad 🇵🇰 (@AhmadB_pk) December 16, 2020
A moment of prayer for martyrs of APS peshawer. Memory of that incidence still make me cry. I wonder how those parents are coping.
Allah keep all our children safe.

— faiza abrar (@abrarfaiza) December 16, 2020
Black Day In The History Of Pakistan #16DecemberBlackDay #APSPeshawar #APS pic.twitter.com/r8hbfpJo4d

— Mehtab Rana (@mehtabrana4u) December 16, 2020
#APS_ToHeaven
Entering the main assembly hall, where a large group of students was taking a lesson in first aid, they proceeded to shoot indiscriminately.@TeamISP__ pic.twitter.com/HC07OaJEIR

— Emzee Bangash (@EmzeeBangash) December 15, 2020
Pakistanis continue to send prayers to the families of those who fell victim to the attack six years ago.
Every year events are held in remembrance of the horrific APS attack. This year it is known that a number of events have been planned to be held in Peshawar and other parts of the country to mark the black day.
Governor of Khyber Pakhtunkhwa (KPK) Shah Farman and Chief Minister Mahmood Khan have paid tributes to the martyrs of Army Public School and their families.
It is known that prime minister Imran Khan will be in Peshawar today for a one-day visit.
Share this