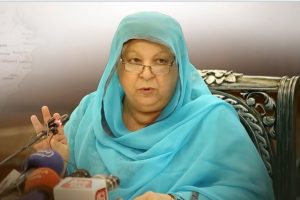 Nation praises Dr. Yasmin Rashid for working tirelessly and performing all her duties as the situation of covid-19 is getting worse in the country despite being a cancer patient. She is Punjab's health Minister and is working day and night to deal with the emergency situation we have in our country.
Dr. Yasmin is 70 years old and went for a breast cancer surgery last year at Shaukat khanum hospital. The surgery went well and now she is in a stable condition and is recovering on a good pace. She has lost all her hair in the chemotherapy session but she is still standing at the fore-front. 
She is performing all her duties in the pandemic and said, "We are increasing the reserved beds for Corona patients at government hospitals. We are now increasing the number of ventilators and oxygenated beds due to rising number of cases. The situation is being monitored on daily basis."
She further added, "All directions of the NCOC ate being monitored and all SOPs are being implemented. We are constantly in touch with the NDMA for ventilators. "Oxygen stock and supply are adequate. I request people to use masks. All required facilities for Corona patients are available at public sector hospitals. The vaccination process is underway as per target in Punjab."
Dr. Yasmin also took on her official facebook page and twitter to request everyone to wear masks, follow proper SOPs and maintain distance from each other to help in not spreading the virus and has also asked everyone to get their vaccination done.
Journalists, celebrities and users on social media are praising Dr. Yasmin for her efforts and are praying for her speedy recovery.

We wish her a speedy recovery and may Allah Almighty give her more strength and bless her with good health and a long life. Ameen!