Nadia Khan shares some moments from her walima ceremony!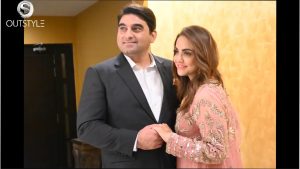 Source: Youtube/Outstyle with Nadia khan
Nadia Khan who recently tied the knot, kept her wedding ceremoney very low-key. She shared a picture from her nikkah ceremony on her instagram and informed her followers about her marriage and stated that she will be posting more pictures soon. The news of her marriage went viral as many started commenting that it is her third marriage to which Nadia replied that it is her second marriage and Kiaan is her adopted son.
She posted a video of her barat ceremony on her Youtube channel Outstyle with Nadia Khan where she was seen wearing a beautiful sea green bridal outfit with some heavy eye make-up in hues of deep green and black and bright pink lip color.
As fans were waiting for walima look, she posed a video on her YouTube channel in which she posted some love-filled moments with her husband while getting ready.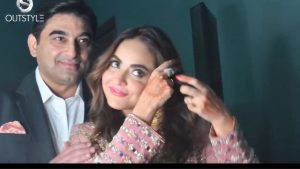 Source: Youtube/Outstyle with Nadia khan
The decor of the event was done with some beautiful white flowers and little chandeliers and candles adding a romantic touch to it. The event was hosted by the couple for their very close friends and family.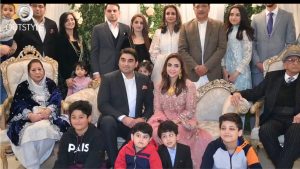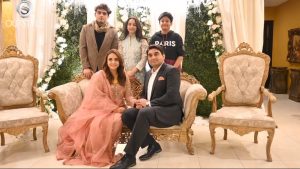 Source: Youtube/Outstyle with Nadiakhan
Nadia was seen wearing a stunning tea-pink pishwas intricately embellished with dabka and mirror work. She did her own hair and makeup and we completely loved her subtle and glowy look with some soft beach waves.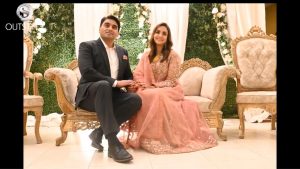 Source: Youtube/Outstyle with Nadiakhan
We wish the couple a lifetime of happiness and wish them all the very best for their future!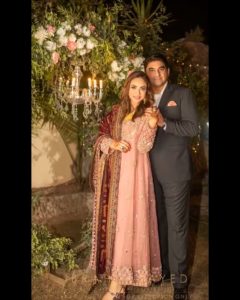 Source: Youtube/Outstyle with Nadiakhan