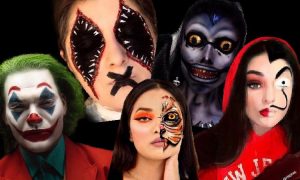 If there is one thing we all must agree upon, it should be that our nation has flowing volcanoes of undiscovered talent and mere skill that needs to be unveiled and proudly celebrated!
This is why with Halloween around the corner we bring forth top 5 'must-see' makeup looks created for Halloween by Pakistani makeup artists that caught our attention and truly deserve appreciation!
1. Shoaib Khan
Shoaib Khan is a celebrity makeup artist but one of his kind who not only excels in beautifying make up but also has a strong grip on cinematic makeup! Here he has created the avatar of 'Joker' from the recently released American psychological thriller film Joker. With the porcelain white face and gassy green hair, Shoaib has outdone himself!
2. Makeovers By Khadija Ahmed
This Lahore based makeup artist recreated the character avatar from the infamous Netflix series Money Heist with a twist of glamour and we love nothing more! This look is the perfect 'pretty-but-also-halloween-ready' look. Full points for the noteable detailing and execution!
3. Rubiya's Artistry
This one takes our breath away and marks off as a fully masked Halloween look creepy enough to scare even the bravest of us away! Rubiya created a anime character look and which, in all honesty is giving us chills! Sssss…
4. Makeup By Bush
Bushra brings a zesty twist to the regular stripped tiger look serving another perfect pretty-but-halloween-ready look which we absolutely love for its vibrant colors and perfect tiger stripes!
5. Makeup By Lasy
Another fully masked makeup look executed to perfection successfully grabs high points on our scare-scale! This talented artist created a detailed-to-perfection 'mouths-for-the-eyes' makeup look!
5. NUMRA
Numra Waqas created the clown with the red float look and we're all here for it! With the white face and seamlessly blended details and ombre lips executed to perfection, this look is a fool-proof look for Halloween!
Special effects makeup is anything but easy and requires a lot more than just basic knowledge of makeup! These artists have outdone themselves with their talent and skill without a doubt! Which look are you opting for this Halloween? Let us know by dropping a comment on our Instagram.