Morocco has made history by becoming the first Arab team to ever reach FIFA semi-finals. This World-Cup has been a personification of Muslim representation with Qatar remarkably arranging a global event with innumerable variables on play, Saudi Arabia defeating Argentina in the initial games and Morocco reaching the semi-finals. The Atlas Lions were jubilant after the final whistle blew marking their win against Portugal in the quarter-finals. The players celebrated the win by going down in Sujood with a million cameras recording the moment.
Interestingly, some people pointed out on Social media that we shouldn't equate or associate a team's win with it's religious beliefs. This also makes a lot of sense as well, the team that prepares, works hard strategically, mentally and physically is bound to stand out and regardless of the many upsets, the best teams have made it as top four.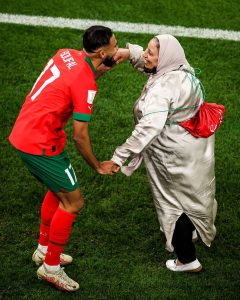 However, we fail to accept that Sofiane Boufal's celebration with Mother on field is just a viral moment. Muslims have time and again been reduced to a community that fails to protect it's women; an idea painted mostly by western writers. Also a rather hypocritical way of generalizing such a diverse community. The Mother-son celebration on field was a display of how a Muslim son and a Hijabi Mother take on a global stage to celebrate the son's achievement. Does her choice of wearing a hijab restrict her from embracing her freedom to enjoy and celebrate life in public? No. Does it liberate and empower her? Yes!
This picture/video was so moving for the community as well because while Muslims may be described in a negative light by most western media forums, with multiple movies showing white men attacking and killing the 'bad guys' who also happen to be Muslim or a Muslim breaking free from the apparent chains that confine him\her from excelling but this visual- a true, raw moment displayed Muslims being Muslims and excelling at what they do. It's also comforting to see something so familiar take center stage at a global event screaming Muslim excellence.
Also brownie points for Sofiane Boufal for helping his mother fix her Hijab at the end. Our hearts can't take it.