Momina Mustehsan and Bilal Saeed's Baari2 is a lyrical beauty!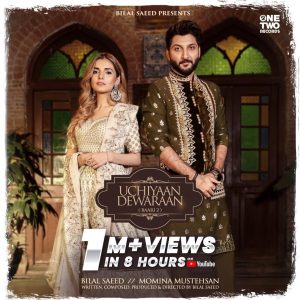 Momina Mustehsan and Bilal Saeed are known to be great singers of our industry with their fine singing skills! The duo got immense popularity in 2019 when the sang the song 'Baari' together.
Baari was a romantic number and was loved by fans for its deep lyrics, melodious tune and beautifully shot video. Baari received the award for the best song of the year and has more than 90 million views on Youtube.
Earlier, Momina Mustehsan announced on her instagram that she and Bilal Saeed are coming back with the sequel of Baari. She said, "Baari was about a girl with a broken heart letting her guards down and giving love another chance. A year later, we visit them again and find out where the relationship took them. Stay tuned for Baari 2."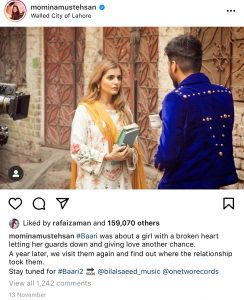 Baari 2 was released on Sunday and has been written, composed and directed by Bilal himself. Rahim Pardesi and Hamid Ali Naqeebi have a special appearance in the song. Soulful vocals and the chemistry created by the two is beautiful and breathtaking. The video is shot in old lahore and half of the part at the Haveli Barood Khana and fans are already hooked to it.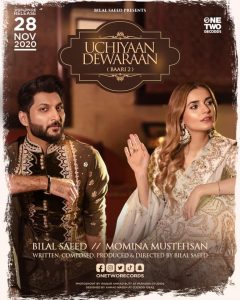 This time the song shows how they both meet again and Momina gets a misunderstaning of Bilal being interested in some other girl. The video further unfolds how they both clear out their misunderstanding and open their hearts to let love in.
Fans say that Baari 2 is another master piece by the dynamic duo and with its sweet, romantic melody it has just hit the right chords of their heart.