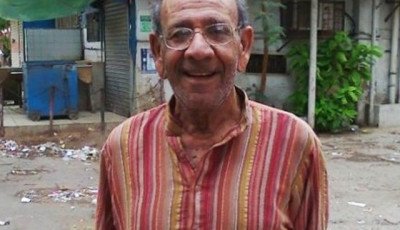 In unfortunate news yesterday, comedian Mirza Shahi passed away at the age of 70 due to cardiac arrest after battling with the pandemic for almost a week.
It was known that his condition was critical, however fans and well wishers were positive until the news of his tragic passing arrived.
Social media quickly picked up on the news and began to pay their tributes to the very loved Mirza Shahi who has kept many entertained with his impeccable performances throughout the years.
Here's what Twitter users are posting on the actor:
Great Mirza Shahi, who make our childhood awesome as an actor in "Nadaniyan" lost his battle against corona😔
May God rest his soul in peace❤ pic.twitter.com/G8fARL2oC3

— Aisشa💫 (@khanihun) September 29, 2020
We've Lost Mirza Shahi 😭😭… May God Grant His Soul In The Best Place Of Paradise…. AMEEN!!!#MirzaShahi pic.twitter.com/PsEM70x6GI

— Mishal Zehra (@MishalZehra02) September 29, 2020
Comedian Mirza Shahi Passes Away Due to Corona Virus. May Allah grant him Higher Ranks in Jannah #MirzaShahi pic.twitter.com/Xdv5ThmvkX

— Akash Pervaiz (@iAkashPervaiz) September 29, 2020
Allah Mirza Shahi sahab ki magfirat farmaye Ameen.#MirzaShahi pic.twitter.com/BEQUSOt3Md

— Ghulam Mujtabaa… (@gmujtabapmln) September 30, 2020
Mirza shahi, a great comedy artist dies of covd in karachi.May God bless his soul

— Rao Manzar Hayat (@ManzarRao) September 30, 2020
What? Chacha boota is no more? 😭
اناللہ وانا الیہ راجعون #MirzaShahi

— I am A.B (@abd_ch11) September 30, 2020
انا للہ وانا الیہ راجعون.

Mirza Shahi You will be missed.#RipMirzaShahi pic.twitter.com/BFTIt2BriF

— Ali_Abbass (SPSF) (@Aliabbas_PSF) September 30, 2020
He made millions of Pakistanis league with his roles in the PTV classic Fifty Fifty

May Allah bless his soul – RIP Mirza Shahi sahib @BBhuttoZardari @JunaidSaleemJD @SoomroJameel @ShahNafisa @Sadiajavedppp @KhuhroNida @Qasimsoomro @NaziaMemon01 @NazBaloch_ @SurendarValasai pic.twitter.com/GCfwD8wkAp

— Liaquat Ali Shahani (@LiaquatShahani_) September 29, 2020
Mirza Shahi was best known for his role as Chacha Kamal from comedy show Naadaniyan.
He began his career in films produced in the former East Pakistan in the early 60's. He made his acting debut in 1965 with a film titled 'Kaisey Kahun'. Later, he acted in various movies, including 'Mala', 'Aakhri Station', 'Is Dharti Per', 'Chakori', 'Chotey Saheb', 'Chand Aur Chandni', 'Payal', 'Anari', 'Chand Sooraj', 'Dushman', 'Miss Lanka'.
We send our heartiest condolences to the friends and family of Mirza Shahi. He will always be remembered for the years to come!
What is your favourite performance by the actor? Let us know by leaving a comment on our Instagram page!