From interior design to fashion, restaurants to website designs! It's everywhere and now in our accessories too; a new trend is taking over- Minimalism. There is a shift from overworked jewelry to simple substance. Minimal Jewelry is cool, fashion forward and now it's the new 'it' thing.
There is more call for simple, elegant and bold jewelry-less is more now and many are trying to scale down their looks for a more effortless, clean feel. And yes this trend is around you, right here in Pakistan too. These jewelry designers are showing you what it means to be fashionably adorned in the modern day. They have kept the traditional values alive all the while discovering new and exciting forms of ornamentation.
Zohra Rahman
Zohra Rahman's designs are a perfect balance between elegance and softness. Her designs are effortless and she is pushing the parameters of traditional jewelry design without being boring.  With over five critically acclaimed jewelry collections, her designs are coherent and statement making and they'll add that extra oomph to your style without being too extra!

https://www.instagram.com/p/BzdKPF9hZtu/?utm_source=ig_web_copy_link
https://www.instagram.com/p/B3_73juJleN/
https://www.instagram.com/p/B0h7rFEhCEt/
Her work is a celebration of simplicity and transforming what is seemingly insignificant into an expressive piece of jewelry. Minimum = Maximum in her design theory and we totally agree. Edgy, sculptural earrings and necklaces, 3-Dimensional pieces are the way to go and they will make you stand out from the crowd!
Take our word for it!
https://www.instagram.com/p/B1gxV3mnsTI/
Eman Suleman adorns this simplistic grill choker by Zohra Rehman.
Iram Zia Raja
Iram Raja's collections of silver pendants and rings is a joy to behold. Her work is minimal but retains the traditional manner of craft. There is an array of motifs, simple patterns, contrast of hues, variation in sizes and shapes. The silver in her jewelry designs complements South Asian skin tone and is great for everyday wear. Its light and it looks super chic with a range of stones and colors. Truly, the must have minimal jewelry for every season.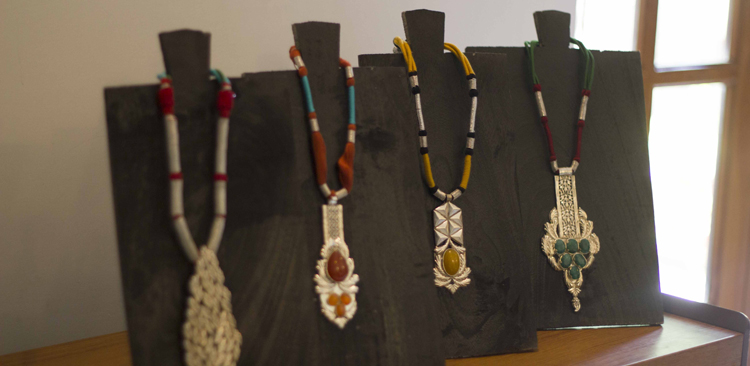 Whether it's the hot Pakistani Summer or the chilly winters and everything in between. Each piece within this collection reflects an element of the diverse culture of Pakistan. Pendants, earrings, and bangles are a few things you would want from this collection.
Still struggling with which jewelry to buy next? Think about which jewelry works well together. That way, you could either wear just a necklace for a simpler look, or all the jewelry for a more dramatic finish! You could even think about which jewelry pairs well together.
Minimalism is one of the most important trends in jewelry happening today. Not just because of the impact on fashion and style, but because people are consciously focusing on the meaning behind jewelry more than the shallow flash of showing off.
Author: Raja Wasey