The death of famed actor Sushant Singh Rajput comes as a shocking reminder to all of us that Mental Health Matters and that depression kills. When someone takes such a drastic step it is only then that people have a conversation around mental health. However, its necessary to understand the importance of mental health in our daily lives. To give it the importance it deserves and most of all it begs us to be kind, to be nicer towards others and to support others who are suffering around us.
Be. Kind – Human. Kind! #MunibaMazari#AspiretoInspire#DailyMotivation#MentalHealthMatterspic.twitter.com/jGgkJlVXse

— Muniba Mazari (@muniba_mazari) June 14, 2020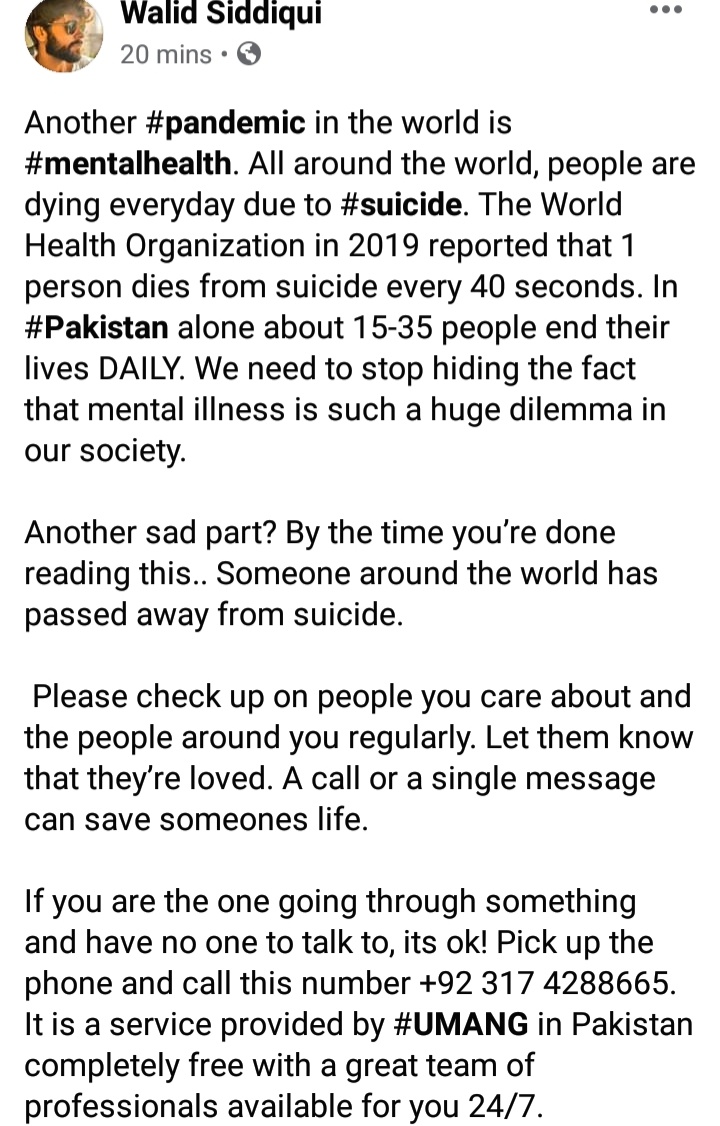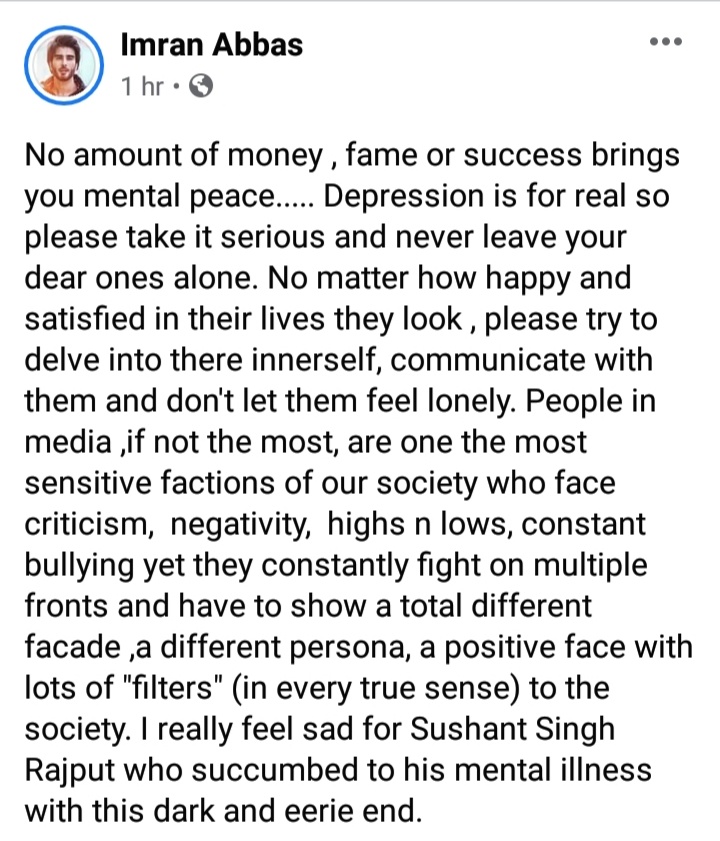 Why have we made it cool to be 'straight up'? That isn't called honesty, it's downright apathy! Be kind and proud. Wear it like a badge. Be kind. Be kind. Be kind. There is much more to people than they show. Be kind ffs.

— Mahira Khan (@TheMahiraKhan) June 14, 2020
Happiness doesn't lie in money, fame and things…It's something that needs cultivating like a habit, esp in our field of work,almost daily,IF we can withstand the pressure! Audience, Press, PLZ peers be kind 🙏! at is out of the bag, #MentalHealthMatters
RIP friend, c u soon.

— TheRichaChadha (@RichaChadha) June 14, 2020
Let's not judge someone's life nor death please & let's get off our high horses about our supposed strength & term those who choose their own exits,weak. News of death,however untimely deserves respect & reverence not loose talk & speculation.Let those who pass do so in peace 🙏

— Pooja Bhatt (@PoojaB1972) June 14, 2020
#MentalHealthMatters#Mentalhealth
here's a little message from me to you, whoever you may be. ❤️ pic.twitter.com/4XtyMYb7hy

— ishika is a bitch (@ishoeka) June 14, 2020
You don't look ill. You don't look disabled. You don't look tired…some are better at hiding their pain than others #invisibleillness#MentalHealthAwareness#depressionpic.twitter.com/Jx36IuVlQr

— Faiza Ariech (@NewcastleFrog) June 10, 2020
even if the slightest idea of ending your life crosses your mind ever, then remember that your friends and family would rather happily listen to your problems than attending your funeral.#MentalHealthMatters

— 愛 (@__aanand__) June 14, 2020
You never know what battle a person is fighting on the inner side. If a person you know calls out for your help, please do not end up underestimating his feelings. What seems trivial to you might be really very tough to them. #MentalHealthMatters#ripsushantsinghrajputpic.twitter.com/WemiXHbXnV

— S A U R A B (@toosimpletolove) June 14, 2020
Life's tough and it's unfair at times, but you're not alone!!
We're all in this together.
As someone who has had similar shit to deal with, trust me it gets better even though you may not see it.
HOPE… HOPE FOR A BETTER TOMORROW
REACH OUT, I DONT JUDGE#MentalHealthMatters

— tu hi meRI-SHAB hai (@naidujii) June 14, 2020
Be very careful of what you write and share about #depression and #suicide. Many people right now are on the edge and alone. Don't trigger them.

— Rani Chandravati (@TheShuchiSingh) June 14, 2020
"Mental pain is less dramatic than physical pain, but it is more common and also harder to bear. The frequent attempt to conceal mental pain increases the burden: it is easier to say "My tooth is aching" than to say "My heart is broken."–C.S Lewis
#Depression#SushantSinghRajput

— Raghuram Rajan (@RaghuramRRajan) June 14, 2020
#Depression is worst if that was #sushantsinghrajpoot 's reason to commit suicide. Jst talk, talk ur heart out . Don't hve any one to talk den write all on a piece of paper and burn it. but don't burden your self with negative thoughts , everything changes so do the tough times pic.twitter.com/pz1QbLBp54

— Dr. Shveata Mishra (@dr_shveata) June 14, 2020
Rest In Power #SushantSinghRajput#Depression is not a joke. Check on your friends and listen to them! pic.twitter.com/j3DLqe4BPO

— Vancouver Shullai (@VancouverShull1) June 14, 2020
It's heartbreaking to see what depression can do to people. I have been there and I have had people to help me when I was fighting my way out. The happiest person we know could be fighting a battle inside and we can never find you. #MentalHealthMatters#ripsushant#Mentalhealthpic.twitter.com/V2JSQdzCq0

— Aashhavi (@aashhavi) June 14, 2020
This is how depression looks like from outside.

They all were successful people with fame, money and everything.

We need to be serious about this topic now… mental health is as important as physical health, if not more 🙏🏻#depression#Mentalhealth#MentalHealthMatterspic.twitter.com/CfN529hSvP

— Subhajit Mukherjee (@SMukherjee30) June 14, 2020
Just ask once. #Mentalhealth#MentalHealthMatters#depressionpic.twitter.com/7z6WUTJbBv

— Pratyush Agrawal (@pratyush_says) June 14, 2020
If any sad and depressing things are happening in your life then please talk to your family whom you can talk about anything. They will be always there for you.🙂#Mentalhealth#MentalHealthMatterspic.twitter.com/HeidqiZrAj

— Shikhar Kumar (@ShikharKumar24) June 14, 2020
Depression is a worst disease. It is just like a ghost which is never visible physically but keeps sucking your peace and mind. People who call depression patients as "attention seekers" need to know that #MentalHealthMatters and it can destroy your life. #SushantSinghRajput

— Sarcasm (@wasimmayo75) June 14, 2020
Mental Health is Important.#MentalHealthMatters#mentalhealthpic.twitter.com/NhR7cV0z6W

— Shivam Jindal (@shivmjindal) June 14, 2020
Each one of us has that one good friend at least. Lean on. Reach out. It is okay to talk and ask for a hug.#MentalHealthMatters

— P®ABHA S!NGH (@Singh_Prabha01) June 14, 2020

Reach out if your heart feels heavier, reach out if you feel you can mend someone's broken heart. Hug it out, talk it out, keep trying and keep fighting! This comes as a reminder for all of us to be softer in our actions towards others, to mend broken relationships, to lose grudges and to heal others and ourselves in the process. Good mental health is related to mental and physcological well being, we hope the best for our readers well being and hope they are helping others around them to the best of their capabilities.
In case you're feeling low here's a little something to calm your nerves!