Share this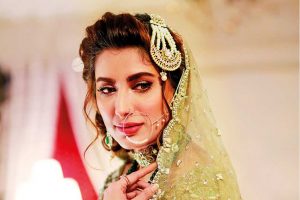 In an interview Mehwish Hayat opened up about her ideas of marriage. The beauty was quoted saying, "I am married to my work because there is a lot that I want to do and achieve. I am self-sufficient and can financially support myself so I need that kind of freedom." The actress also went on to talk about how she would want her partner to appreciate her financial independence and support her growth.
The actress also revealed that she would like to star in an action film as a superhero. Mehwish said, "Hollywood has so many female superheroes, so I think we should have at least one!"
Mehwish recently received Tamgha-e-imtiaz for her laudable contribution to Pakistani cinema. She took to Instagram to announce the news by posting a picture with the award pinned onto her green shirt!
Hayat captioned the post as, "Bringing home the medal wearing it on my heart with pride. Karachi here we come..!!!"
Hmmm…did Mehwish really open up about her marriage? Perhaps not this time, leaving fans in anticipation of whether marriage is on the cards for the Punjab Nahi Jaoon Gi actress. Let us know what your thoughts are by dropping a comment on our Instagram page!
Share this