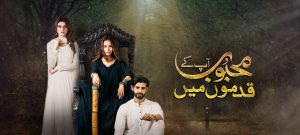 A Furqan Adam direction and production of Moomal Entertainment and MD Productions, Mehboob Apke Qadmo Mein has caught our attention with its promising story-line based on intense love, feelings of jealousy and the all-consuming power of black magic corrupting the soul beyond measure!
The cast of the drama serial features Sukaynah Khan, Zubab Rana, Saad Qureshi, Agha Mustafa, Shaheen Khan, Shahzia Gohar, Farhat Nazar, Parizae Fatima, Agha Talal, Zubair Akram and Syed Qamar Raza Rizvi.
https://www.instagram.com/p/B3KAABNoqI0/
Sukyna Khan plays the character of Shazia in the drama serial 'Meboob Apke Qadmo Mein'.
The teaser shows Zubab Rana and Saad Qureshi as a couple and Sukaynah Khan as the third person who also seems to be in love with the same man, connecting all three dots of a love-triangle! The story seems to develop into an intense situation where hate takes birth between Sukaynah Khan and Zubab Rana due to jealousy, eventually leading Sukaynah to be fully consumed with hatred and desperation! As the feelings of bitterness continue to grow, she opts for the route of black magic to get her love!
You can watch the trailer below:
Mehboob Apke Qadmo Mein will air its first episode tonight at 9:10 PM on HUM TV!